OMG, snubbed! This is a scorned woman:
U.S. Secretary of State, Condoleeza Rice speaks to reporters after a Quartet Principals meeting at U.N. Headquarters in New York Sunday, Sept. 23, 2007 (AP Photo/David Karp)
Condi usually doesn't
work
work on Sundays; she usually just does the spokesmodeling thing on the network blabfests. So what's she doing at this totally boring UN thingy? I mean, what? And this is where it gets a little bitchy because Howard Kurtz had to go and say all these
mean things
about our Princess Diplomat. And I mean really, really mean:
No Dice on Rice

The secretary of state has always been considered a prize catch for the Sunday talk shows. But when the White House offered Condoleezza Rice for appearances eight days ago, after a week focused on Iraq, two programs took the unusual step of turning her down.

Executives at CBS and NBC say Rice no longer seems to be a key player on the war and that her cautious style makes her a frustrating guest.

"I expected we'd just get a repetition of the administration's talking points, which had already been well circulated," says Bob Schieffer, host of CBS's "Face the Nation," who questioned two senators instead. "We'd had a whole week of that with General Petraeus and President Bush. I thought it was more important to get a sense of where the Senate Republicans were."

Tim Russert, moderator of "Meet the Press," who also hosted two senators, declined to comment on why he turned down Rice.

"She was happy to have her Sunday morning back," says State Department spokesman Sean McCormack. "There are lots of weekends where we're getting urgent phone calls requesting her to be on Sunday shows."

Footnote: None of the five shows turned down Hillary Clinton yesterday, although there was grumbling about the lack of exclusivity.
OMG, right? Can you believe that Schieffer, Russert... even that Rastapopolis guy, I bet... like they have better things to do than have a girly chat with -- Hello!-- Condoleezza Rice?
So that's why she was at that stupid dullsville event yesterday that was way too boring, but you know what? At least she got her look put back together. I think that Saturday she had a spa day, because on Friday she was a ghastly rough thing (we'll get back to that, alas), so Condi was lookin' good (although it could be, of course, the labor-saving, Disneytronic Condibot).
Today, Condi still looks good, and she stood behind a podium at some Earth Day thingy or something, and managed her usual impressive feat of saying just loads 'n' loads of stuff containing no actual content:
Condoleezza Rice, US Secretary of State speaks at a high-level event on climate change titled "Innovating a climate-friendly world: the role of technology and dissemination" at U.N. Headquarters in New York, Monday, Sept. 24, 2007. (AP Photo/David Karp)
Finally, and this is a doozy: I've been a terribly negligent pony. It's true! Properly, there should have been a Condoleezza Hairdo Alert System... um... alert, because, OK, on Friday? Utter hairdo nadir. It was really bad, and I was on pins 'n' needles all weekend. Actually, that's totally a lie. The whole thing played out over the weekend while I was doing other things! And that's where the system breaks down! It's totally a metaphor for the Iraq war or the holocaust or whatever. I blame bush.
But, OK... here's a picture from Friday: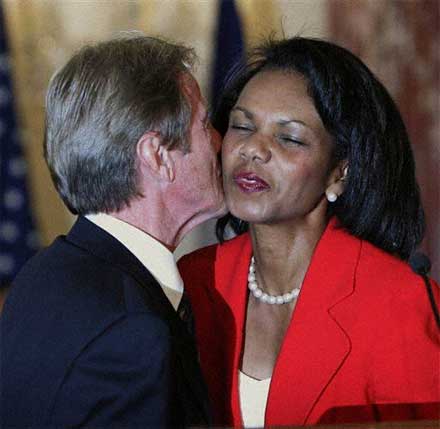 Secretary of State Condoleezza Rice receives a kiss from French Foreign Minister Bernard Kouchner following their joint news conference at the State Department in Washington, Friday, Sept. 21, 2007. (AP Photo/Susan Walsh)
Ew. You can't really see it very well, but that hairdo is about to fall off her head. Compare it to the top picture!
Are you ready for the big reveal? Here's how bad the coiffure had gotten on Friday: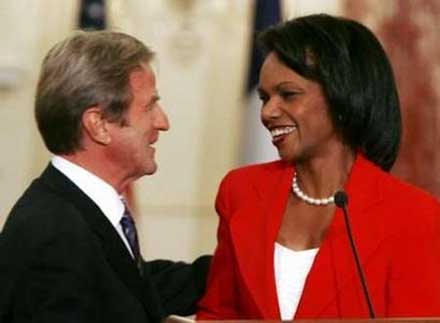 (Reuters/Jim Young)
OMG helmetty! So, obvs, that was the ultimate denouement of that hairdo cycle, wouldn't you say?
But that's all in the past, because a vital mission has been completed, one which overshadows all the other petty little skirmishes happening all over the globe: Condi's hairdo has been successfully stabilized.
And that's how the Condiweek starts! And, OMG, Condi? If you're reading this, you totally shouldn't care about your TV career being kinda washed-up right now, because the Associated Press, Reuters, Getty Images, Corbis, AFP... they'll never leave you (I hope).