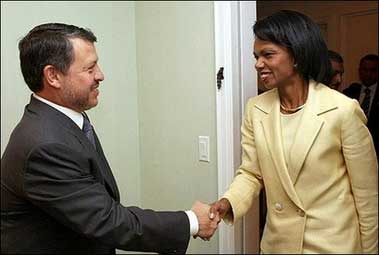 This picture released by the Jordanian Royal Palace shows US Secretary of State Condoleezza Rice (R) shaking hands with Jordan's King Abdullah II during a meeting in Washington, DC. Secretary of State Condoleezza Rice is to embark on a four-day Middle East tour next week to discuss the Israeli-Palestinian conflict and stability in Iraq, the State Department said Tuesday.(AFP/HO)
Yay! A shopping excursion! I'm glad Condi decided to drop that trip to dowdy ol' Africa in favor of the Middle East, because the malls are totally a lot better there. And, naturally, she had to get her holiday instructions from one of her primary masters before going. No, not George (although I'm sure he had some tips 'n' tricks), but Jordan's adorable bear-king!
Which reminds me: I wonder how many oil company boards Condi will grace after the Bush Administration finally goes away?