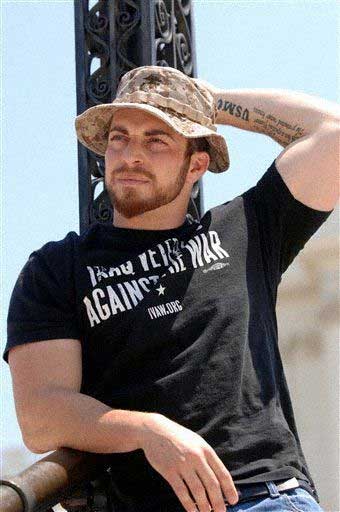 Adam Kokesh is photographed on Thursday May 31, 2007 in Washington. The Marine Corps wants to dismiss Kokesh, an Iraq war veteran, from the reserves for taking part in an anti-war protest and other misconduct, a move the veteran claims is punishment for his political views. (AP Photo/Kevin Wolf)
What can I say? So far he hasn't responded to the shameless, inappropriate drooling by me and Pony Pal™
Joe
(among others), but this photo clearly shows that, Honey, he's
working it
. Visit luscious Adam's blog
here
. I am prepared to declare him the single most handsome person (inside and outside!) in Washington, DC.
Oh, and Adam, I'm assuming that this kind of attention is probably a tad daunting to a former Marine like yourself, but consider this: Pony Pals™, how much would you donate to Adam's totally deserving organization in exchange for a simple YouTube clip of him removing his shirt?
OMG, I feel so dirty.