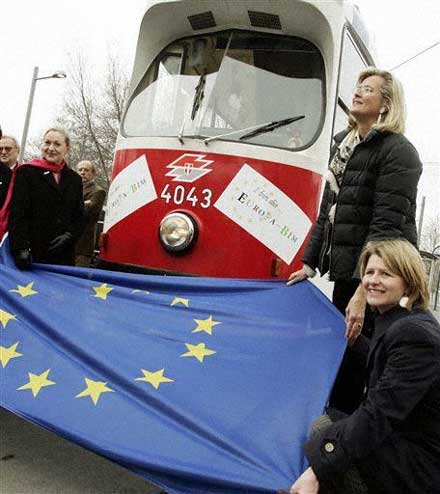 EU-Commissioner Benita Ferrero-Waldner, Austrian Foreign Minister Ursula Plassnik and EU delegate of the Austrian Social Democrats Karin Scheele, from left, present a so-called Europe tramway, on Friday, March 23, 2007, in Vienna. (AP Photo/Hans Punz)
I love the contrast: Bush and company have their wagons tightly circled, biting their nails and cursing about the political siege they wished upon themselves; meanwhile, in Europe, various world leaders get together to have a party for a train! Yay!
And who better to play hostess than Bunyanesque bedazzler Ursula in a mighty scarf and an impressively pneumatic jacket! Double yay!