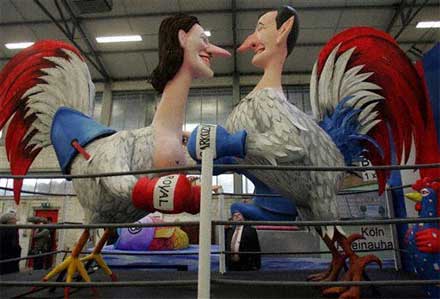 Models for a carnival float shows French candidates for the Presidential election Segolene Royal, left, and Nikolas Sarkozy, left, dressed as cocks in Cologne, western Germany, Tuesday, Feb. 13, 2007, at the official presentation of the carnival floats for the Cologne Carnival Monday Parade. (AP Photo/Roberto Pfeil)
OK, so I've gotten several requests (from the same person, but
still!
) for some Pink Pony luv to be thrown towards Ségolène Royal, the Commie Pinko girl presidential aspirant of France. I dunno... I think she's boring, as Communists tend to be, even if she does get
photographed in a bikini
.
But! All is not lost, thanks to the Germans, who came up with the superspecial carnival float dedicated to Ségolène seen above. I think it's safe to say that none of the mainstream American news swamps are going to feature this particular photo, so
Blue Gal
, this one's for you! Enjoy!