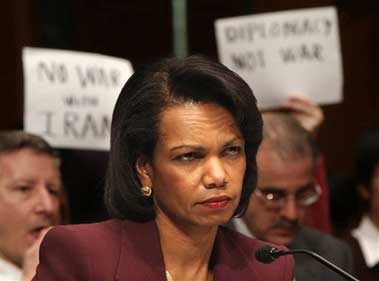 Protestors hold signs behind Secretary of State Condoleezza Rice as she testifies on Capitol Hill in Washington, Thursday, Feb. 8, 2007, before the Senate Foreign Relations Committee's hearing on the State Department's fiscal 2008 budget. (AP Photo/Dennis Cook)
Also, I hope Condi's clean 'n' articulate enough for this guy: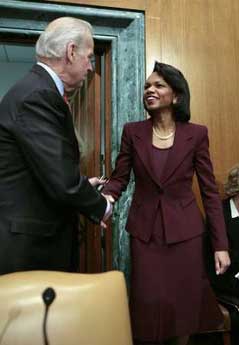 U.S. Secretary of State Condoleezza Rice shakes hands with Senate Foreign Relations Committee Chairman Joe Biden (D-DE) on Capitol Hill in Washington February 8, 2007. At the hearing in which Rice testified, the committee approved the nomination of John Negroponte to become deputy secretary of state, sending the nomination to the full Senate REUTERS/Kevin Lamarque (UNITED STATES)
EDIT: Yes, yes, yes I've seen the
Condi Raps
thing on the Youtubes, but I've been reluctant to highlight it because 1. it's so unCondilike and 2. I have no idea who made it or where it comes from and 3. I'm just not all that impressed with it. Anything which attempts to make Condi "hip" is obviously barking up the wrong tree.