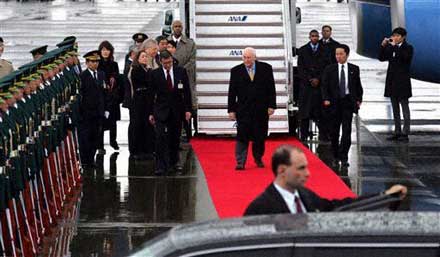 U.S. Vice President Dick Cheney, center, is greeted by honor guards upon his arrival at the Haneda International Airport in Tokyo Tuesday, Feb. 20, 2007. Cheney's brief visit is a gesture of appreciation for Japan, which has been one of Washington's most valuable allies in its global war on terror, sending troops to Iraq and deploying logistical help for the U.S. and coalition forces in Afghanistan. (AP Photo/Koji Sasahara)
Isn't that fun? The Veepster goes to Japan, and it's totally not newsworthy! I love the shot of him kinda lumbering, Frankenstein-style, down the red carpet during the brief shamble from jet to limo, surely the only exposure to the open air suffered by the grouchy old man on this quick escape from Washington. People sure are all mixed-up about Cheney these days, though: some think he's still pure evil, while others portray him as an inconvenient duffer, old and in the way. I like to think of him as a little bit of both. But look! He got to do a matching armchairs photo-op with none other than a real, live emperor: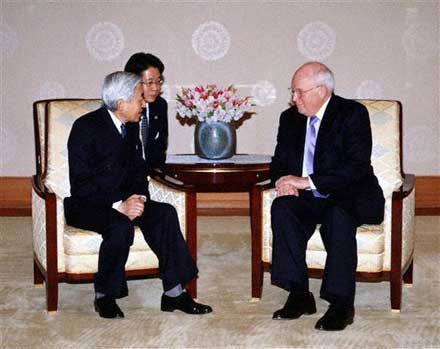 In this photo released by the Imperial Household Agency of Japan, U.S. Vice President Dick Cheney, right, speaks with Japanese Emperor Akihito at the Imperial Palace in Tokyo Wednesday, Feb. 21, 2007. (AP Photo/The Imperial Household Agency of Japan, HO)
God, I just can't stand how interpreters can interfere with an otherwise perfectly symmetrical set-up. There really should be a second flunky crouched back there behind Dick, for balance's sake, at least. I guess they couldn't find any volunteers.
Two sparkley hooves way up for the Emperor's socks!