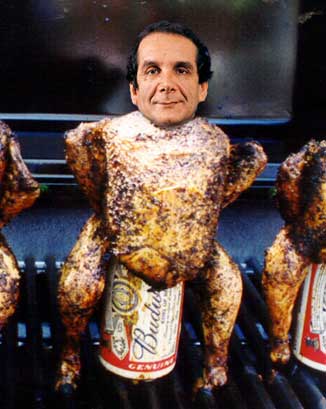 What is it with Republicans jousting with fictional characters? From Quayle vs. Murphy Brown to Falwell vs. Tinky Winky to Margaret Spellings vs. Buster the Bunny, how long will it be before Cheney challenges Jem and the Holograms to a death-match? It's almost as if, tired of sparring with people who can formulate real arguments to contrast with their illogical views, the Republicans feel more comfortable debating characters who don't actually exist. Clever!
This time
, dependable blowhard Charles Krauthammer decides that this Borat issue simply
must
be addressed in the editorial pages of the
Washington Post
. There is little evidence that Charlie has actually seen Borat's hit movie, as most of his rhetoric is aimed at dog-eared episodes from the Ali G show, but this doesn't stop the Krautmeister from hitching his wagon to the runaway hit train to put forward a flimsy argument that the United States is the most religiously tolerant country in the world (true), and is, therefore, devoid of religious bigots (false) because, you see, it's unfair to include hicks 'n' rubes in the survey.
Um, whatever. What Krauthammer really wants to say, though, is that this is yet another example of mean, snobby liberals pointing and laughing at those hicks and rubes, because it's unfair, apparently, to make fun of stupid people. Well, considering that Krauthammer and his pals depend on stupid people for their very existence, his concern is well-founded.
Krautykins also conveniently overlooks racism as the primary subject of the Borat film, but since he hasn't, apparently, seen the flick, this is understandable. Furthermore, he also doesn't account for the fact that the Borat film wasn't restricted to release only in America, but is being screened all over the world, a point which makes its "anti-semitism and racism is ludicrous" message far more pointed.
Coming soon: David Brooks arm wrestles a Bratz doll.
UPDATE: Oops, commenting enabled.