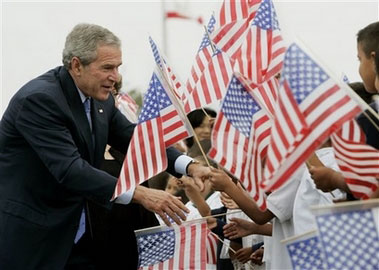 President Bush, left, greets students waving U.S. flags outside the entrance to the George W. Bush elementary school, Tuesday, Oct. 3, 2006 in Stockton, Calif. (AP Photo/Pablo Martinez Monsivais)
Is that headline too heavy-handed? Well, poor Georgie certainly didn't count on these October surprises.
I think that headline's a little corny, actually. Here are some alternatives:
Try Burning This Flag, Asshole! It's Vinyl and It'll Drip Hot Goo on You!
Bush Assures Crowd He Will Never IM Them in An Overly-Friendly Manner
USA! USA! Now with Less Abramoff!
Bush: Everything's Great! Everything's Motherfucking Great!