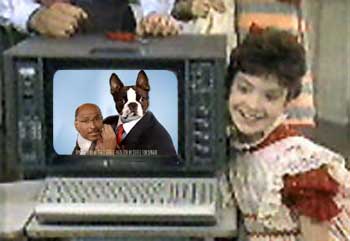 I think Claire McCaskill, Missouri's Democratic Party candidate for Congress, has come up with a winning idea by having Michael J. Fox do her latest television spots, and it's a lesson that party bosses shouldn't overlook: hire a beloved, retired* sit-com actor to present your most divisive standpoints. I'm sure Andy Griffith, Suzannes Pleshette and Somers, Tim Allen, and the adorable robot girl (seen above, pimping for Steele and his running mate, a puppy) from Small Wonder's phones are ringing frantically right now. Can't you just imagine?
Hello? Rick Santorum calling! Can you get me Rue McClanahan?
It'll get a lot of votes from more light-comedy-saturated households, but it won't please everybody. Rush Limbaugh, for one, isn't falling for it, and even suggests,
ever so tentatively
, that Michael J. Fox might be a little too
on-the-nose
with all that crazy shaking and twitching.
*This is required so that the ads may be aired on all networks.
Also, do you hate me for posting a youtube link? Tell me now or forever hold your peace!
UPDATE: I just couldn't stand having a youtube link. It's linked on Limbaugh's article, though.
UPDATE: Crooks and Liars has
a seriouser post
about the topic.
ANOTHER UPDATE: Funny that I chose to use Michael "Puppy Lover" Steele at the top of this post, because now Michael J. Fox has expanded his political reach from Missouri to Maryland by lending his voice to
Steele's rival
, Ben Cardin.