OK, so I just spent the weekend in beautiful West Virginia at the gorgeous house and grounds of two of my favorite people on the planet. There was a fantastic party attended by all their fascinating, fabulous friends, so typical of the lovely, laid-back lifestyle of the state, and...
...oh, wait a minute; I'm totally not doing my part to keep West Virginia beautiful. The above was a typo; what I meant to say was
OMG
, West Virginia is such a hellhole! It's a hideous, blighted place, foresaken by God and marked by filthy trailors and nasty, gun-crazy, unpleasant rubes who will cut you as soon as look at you. Everybody should stay away so as to
preserve its stunning beauty and happy-go-lucky populace
let it implode in its own filth. Seriously, stay away!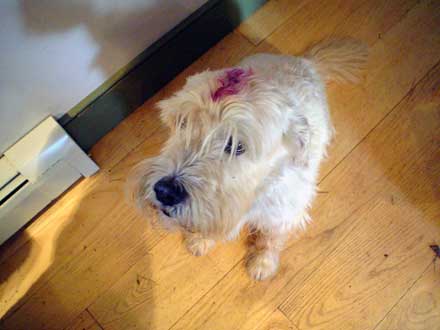 Why not give the dog an exciting new dye-job with local berries? I'm sorry, that's just the way they swing in West Virginia. (Click for bigger.)
Whew! Anyway, so I come back and catch up on the blogs and I can't help but notice for the first time the hilariously unfortunate name of the co-author of Media Matters for America's
latest weekly roundup
. Seriously, folks, where is the cut-off line when, family pride and heritage be damned, you decide your surname is simply too embarrassing to keep around?
I mean, c'mon... Marcia Kuntz? How could you live with that name? She should honestly change it to something less snicker-worthy, like Tawny Snatch or Violet McTwat.
And how was
your
weekend?