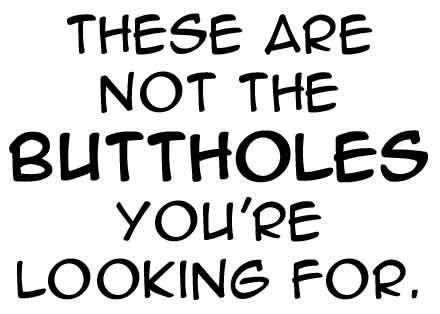 I've
lamented before
that it's daunting to be the #1 Google Image Search result (
not safe for work, duh
) for the word
butthole
. Sure, it's a rare, peculiar honor, but it's a little embarrassing to realize that a substantial percentage of traffic to the Pink Pony is driven by this very phenomenon. I tried to douse the flow (
ew
) by deleting the delightful and superpopular "Butthole.jpg" from my server*, but to no avail: thanks to Google's mysterious
caching-thumbnails-and-then-never-uncaching-them
magic, I seem to be stuck with the... privilege. I am your #1 source for
Butthole.jpg
. The annoying result is that all my Site Meter and web site statistics are cluttered with people clamouring... over and over and over, every hour of every day... for this picture!
So, OK, OK! I have uploaded a new "Butthole.jpg", seen above, to the same URL. Maybe Google will recache it and end up with a totally easy-to-read thumbnail, and all those fine people searching for buttholes on Google in their homes, universities, high schools, work places and, um, the Pentagon (according to Site Meter) will be able to more efficiently locate their important pictorial treasures.
*Note: the original "Butthole.jpg" was non-sexual in nature. It was a fake Pink Flamingos trading card illustrating the captivating "singing asshole" scene from that film. A collage of the fake trading cards with the naughty one 95% covered can be seen
here
(safe for work).