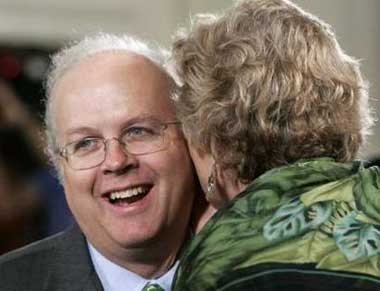 White House Deputy Chief of Staff Karl Rove (L) laughs as Under Secretary of State for Public Diplomacy and Public Affairs Karen Hughes whispers in his ear before U.S. President George W. Bush makes remarks on terrorism in the East Room of the White House in Washington, September 6, 2006. Bush acknowledged for the first time on Wednesday that some foreign terrorism suspects have been held by the CIA outside the United States. REUTERS/Jim Young (UNITED STATES)
I'm terribly sorry to be so late with the above, but I've been a little lazy lately. Sometimes, though, you stumble across something so horrifying, so utterly wrong, that you just have to share it with everyone. And here's the view from the other side, thoughtfully provided by Reuters' Jason Reed:
You may start screaming now.