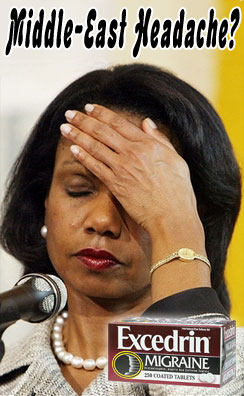 OMG,
this
is simply too much. These totally mean people are being soooo, soooo unfair to Condi, and they keep calling her, mockingly, "Miss Rice" throughout the article to add insult to injury. That's
Doctor
Ferragamo to you, Mr. Insight Magazine editor! OMG I could simply scream! Incompetant! Condoleezza Rice! I ask you!
Also, can you believe that our beloved Dr. Secretary has provided the definitive image of the success of our foreign policy (see above)? Somehow, I don't think that's the kind of image Condi or any of her friends really wanted, but... well, when a gal's gotta wince, a gal's gotta wince.
Poor Condi. Plus, all this fuss just
can't
be good for her hair and skin.