Please Note
: The recordings reproduced here carry neither a date nor any copyright notices, but were probably copyrighted by the Tandy Corporation. They are presented here as a historical artifact and as part of an activity for learning and discussion.
This record is obviously an example of bandwagon-jumping on perhaps the single most annoying trend of the 1970s: the CB radio craze. If you weren't there at the time, you may be surprised to learn that this downmarket fad, far from being a flash in the pan, lasted an excruciatingly long time, bracketed by CW McCall's release of his hit song "Convoy" in 1975 and the failure of Sam Peckinpaw's too-little-too-late flop movie version (doomed by Ali McGraw's curly perm) in 1978. So, in other words, the CB radio phenomenon was in its highest intensity
as a mainstream fad
for two solid years of t-shirts, embroidered caps, books, board games, lunch boxes, the worst Hanna-Barbera animated series ever ("CB Bears", I kid you not), and cash-in records like this week's audioblogging selection.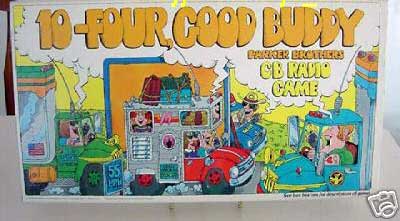 CB-themed board game, Parker Brothers, 1978
Why did it happen? Well, think of the other social-activity-based trends running concurrently: punk rock was underground and too nihilistic and weird for your average American; disco was a little too fey for many, and way too urban, if you know what I mean. The vast rural and middle-American audiences needed a cartoonish fad to call there own, so when McCall's demonically catchy song crossed over to the top-40, it was right on time, replete with its own language, accessories, etc. Add to that the high-tech gadgetry, the radios themselves, and even rich people could get tempted into the act. This was a highly-exploitable fad, and that's why it lasted for over two irritating years.
All Ears
was commissioned by the Tandy Corporation from Ironside Productions in Nashville, and it served a threefold purpose: first, it was a cheap cash-in product all its own; second, it served to promote Radio Shack's prodigious offerings of CB radios and accessories, which are pictured on the back:
Third, Radio Shack wanted CBs to appeal to everybody, not just rednecks, so the record tried to present a range of music, "Music for every taste -- pop, rock, soul, country," as the cover proclaims. Don't take my word for it, though, listen to side one and hear for yourself:
Shirley and Squirrely: Hey Shirley
(3:12, 3.8mb mp3)
Randy Goodrum: Honey Bee
(3:12, 3.8mb mp3)
Bob Gelotte: Come On, Come On, CB Baby
(2:57, 3.5mb mp3)
Ed Barnet: Everybody's Somebody (In Our CB World)
(2:40, 3.1mb mp3)
Johnny Hemphill: Hey Good Buddy
(2:41, 3.2mb mp3)
I should warn you that the first track is a "chipmunks" rip-off, so be prepared to hear "squirrels" shrieking CB catchphrases at each other to a backdrop of bad country music.
Enjoy, and older Pony Pals™ should please feel free to share their 1970s CB memories.