Sorry, but I can never resist a full-frontal close-up. We live for such pictures, right? Anyway, that's our heroine giving a lecture at a soccer stadium, which is, I suppose, how they do things in Blackburn. Go Rovers! What really struck me, though, is that her host, the British Foreign Secretary, just can't. keep. his. mitts. off. her (see also earlier today):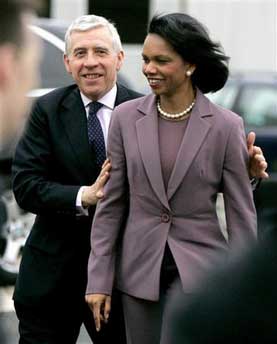 Is this an example of that English decorum we've heard so much about? Look! Here he goes again, in for the arm-grab:
Seriously, are they fucking? He's a married man! I don't want to really think about it anymore. But finally, because I was hoping for an evening wear shot, here she is with the conductor of the Royal Liverpool Philharmonic Orchestra: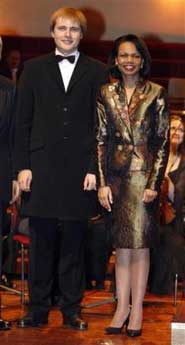 A little help here? I'm unable to interpret this costume, and there aren't any better shots so far. I'm not sure I like the long sleeved double-breasted with a short skirt thing she's got going on. Plus, is that metallic fabric, or is it silk? Where's the
Washington Post
's Robin Givhan when I finally need her?