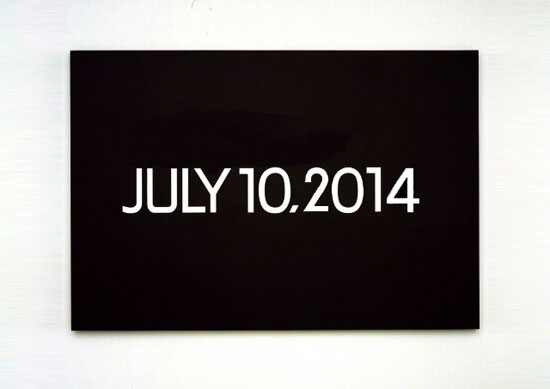 I've always loved the work of
On Kawara
, the conceptual artist who made time, dates, delay and, really, his own continuing existence the essential components of his artwork.
I've been working with Kawara images recently, so it came as a depressing surprise on July 10 when news of his death started popping up on Twitter. Saddened, I searched the web for more info, but found nothing. Had he really died? It seemed like too random a name to pull out of the hat for a Twitter death hoax.
Luckily, I knew just the person to contact for confirmation, an insider who would know for sure. This person confirmed to me that Kawara had, in fact, died "over a week ago," and that no announcement had been made because his family and representatives were waiting for an opportune time to announce his passing. I had to break it to this person that the news had leaked and was all over Twitter, so within an hour or two, Kawara's gallery
released a confirmation
, but said nothing about how, where, or when he had died. Now, I knew from my source that he had already been dead for over a week, but since this was insidery information gained through my work, I was not able to share this clarification*
And this became quickly very funny as people, assuming Kawara had died that day, immediately began posting tributes and obits. The Art Newspaper, for instance, wrote the following:
On Kawara, the Japanese-born conceptual artist best known for making date paintings for the past 48 years, died today, Thursday 10 July, at the age of 81.
Elsewhere, people had the great idea of creating ersatz On Kawara date paintings displaying the (incorrect) date of his death, such as the one shown above, and this one
from the Huffington Post
:
Finally, last night, the New York Times published
their "official" obituary
for the artist, and wouldn't you know it? They did not release the exact date of his death, but did reveal that it had occurred over a week before July 10:
On Kawara, a Conceptual artist who devoted his career to recording the passage of time as factually and self-effacingly as art would allow, died in late June in New York City, where he had worked for 50 years. He was 81.
I can't help but think that Kawara's family intentionally withheld the specific death date. Perhaps on his instructions? Who knows, but it seems right, doesn't it, that the artist whose work was so involved in precise time spans and dates, would throw such uncertainty into the mix when he ceased to exist? Well played, Mr. Kawara.
But for just a few days, when people thought they knew when he died, and I knew that I didn't, in fact, know, made me feel like I was fortunate to be experiencing his final artwork, a complex conceptual prank which very few people knew was happening.
And for that, I feel lucky.
So here's my more-accurate tribute to the great On Kawara. You will be missed:
*Obviously I can now that the NYT obit was released.