(The view from my hotel window. Click most for bigger.)
So! A mini vacation! Sparklesibling Marilyn told me several weeks ago that she was going to attend a conference in Pittsburgh. Since that's close-ish (ha ha, not really), I decided to join her there. I've always really enjoyed one-on-one time with this sister, and those times seem to get fewer and farther between these days, so it was great fun to experience a totally alien city with her.
I was dumb: I assumed I could just grab an AMTRAK to Pittsburgh, but it turns out that is not a thing one can do in DC! So I took the Megabus, which is super cheap on the one hand, but... well, buslike on the other. It took me roughly the same amount of time to get there as my sister's flight from Tucson. The trip was worth it at least for the opportunity to photograph the milk truck I posted the other day.
We stayed at the Marriot which is right in the middle of downtown, in the "Golden Triangle" created by the meeting of the Allegheny and Monongahela Rivers. It's a nifty Midwest-style downtown featuring a fun mixture of Art Deco and Mid-Century Modern architecture, with just a smattering of older and newer things collaged in. Supposedly this is where the "cultural district" is as well, but I was unconvinced.
(The Golden Triangle from the north shore of the Allegheny.
The Andy Warhol Bridge is on the left.)
Or, rather, perhaps I was distracted by all the gigantic anthropomorphic creatures wandering around everywhere we went? Before you ask, no, we weren't dabbling in LSD. It turned out that we had come just in time for the big annual "furrie" convention! It took place at the (beautiful) convention center just down the street, and many of the animal sex cartoon enthusiasts were staying at our hotel! It definitely added a surreal spin on our time there, just constantly being in the presence of LOTS of people in animal costumes and ludicrous tails sticking out of their jeans EVERYWHERE you went in the area, at night and in broad daylight: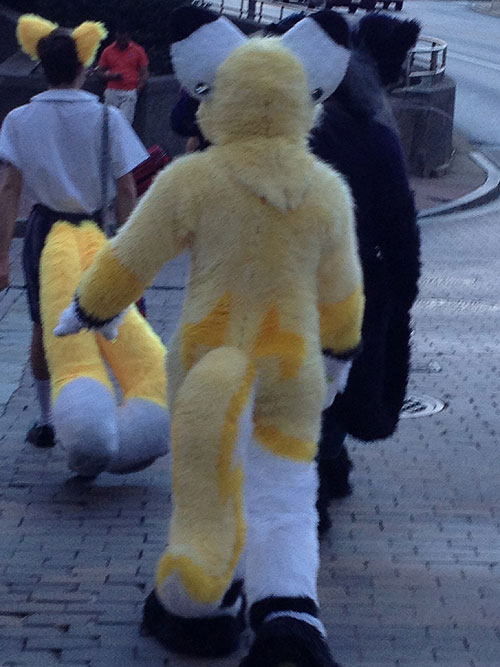 (Foxes outnumbered other animal types 5:1)
OK, OK, yes, furries are ridiculous. Let's get that out of the way. Most of it I just don't get, and some of the parts I DO get seem gross/dumb. I could go on and on, and yes, Marilyn and I shared many an incredulous glance due to the furries' antics, but you know what? Pittsburgh made me realize that I would have to be, honestly, a dick to do that. Who am I to criticize the furries? I'm pretty much a oddball, too, so go ahead with your weird selves, furries. Indeed, Anthrocon, as the event is known, had some mean receptions in other cities before being so cordially welcomed by Pittsburgh that they made the city its yearly home. I think that says good things about Pittsburgh.
Otherwise, I was surprised by the city, because I expected it to be like an East Coast metropolis, and it just isn't. It doesn't resemble Philadelphia in the slightest. It reminded me more of Milwaukee than any other place I've been. Also unlike East Coast cities, this is NOT a good one to visit without a car, so that restricted our visit somewhat (I don't drive, and Marilyn didn't rent a car). You have to call a cab ON THE PHONE.
We went to the Andy Warhol Museum, which is worth the trip alone (you can see a selfie we took
here
). They had an excellent special exhibition on
Warhol and Halston
, which included a glamorous selection of outfits and accessories which hit all the right high (Warhol's stitched-together photographs) and low (Studio 54!) notes. I was thrilled to see the mink bunny mask worn by Candice Bergen to Truman Capote's Black and White Ball, because I was missing the fiurries (see a photo of the mask
here
).
The Warhol's permanent collection is spotty, heavy on unsold and leftover (and unfinished!) paintings, but they have an amazing amount of his early commercial illustration work, which was a thrill to a fan of the genre like me, and an eye-opener for Marilyn, who didn't know about Warhol's beautiful early drawings. His very late work gets a good spotlight here, too, as do his underrated late 70s/early 80s commissioned portraits, which are all gorgeous, shut up.
(Heinz Ketchup/Torosaurus mashup, Market Square. A great icon for the city.)
We also went to the Carnegie Museum of Art, which came as an impressive surprise. I was expecting a collection reflecting typical, fusty, robber baron tastes, and the founding collection is certainly that. What I didn't expect was an outstanding collection of modern and contemporary art. They have a particularly good group of early modern pieces, including
the best Marsden Hartleys
I've ever seen, some lovely Doves, a great early Mondrian tree abstraction, and many other gems. The contemporary collection is challenging and demonstrates an almost uncanny prescience in just what to acquire and when. I really enjoyed their
disturbing Mike Kelley
installation, and wanted to sacrifice a swan to their
royal blue Craig McCracken plank
.And they have
David Hockney's portrait of Divine
!
And if you're at the Carnegie, you have to go to the Museum of Natural History, home of the best dinosaur displays you will ever see anywhere. It was breathtaking: exceptionally good mounted skeletons and lifelike models all displayed in cunningly created period environments. My jaw never stopped dropping, and I appreciated that they managed so well to balance the appeal to children with smart features for adults. I saw the newly-published "
chicken from Hell
," which was amazing and creepy and not quite like any dinosaur you've ever seen.
Eating in downtown Pittsburgh was a bit of a challenge: lots of chain "restaurants" and many lunch hour places which weren't open due to the holiday weekend. We were very lucky to have the outstanding
Meat and Potatoes
recommended to us, and we ate there both Saturday evening and Sunday morning for brunch. They specialize in a kind of chiced-up, but not too twee, comfort food, like pot roast done so perfectly you can't believe it. For dinner, I had the delicious Hudson Valley Duck Breast with dandelion greens and sauerkraut pirogis:
(OMG, the duck is rare and "pastrami crusted")
That cocktail was some kind of gin concoction with muddled blackberries, and was the best gin drink I've ever had. The place is superb and HIGHLY recommended, and has such an adorable staff they could throw your entrees on the floor and you would remain enamored. For brunch I had a ridiculous version of Eggs Benedict which somehow had a chicken-fried steak in between the perfectly poached eggs and the English muffins, and was SO DELICIOUS.
So a good time was had by all! Some stray observations: with only a couple of exceptions, I did not see a single well-dressed person in Pittsburgh. If you don't care for the sportsball games, it is not the city for you. If there are groovy, hip little shops and fancy boutiques in Pittsburgh, they were skillfully hidden from me (in a far-away neighborhood, I'm guessing). On Saturday evening, I had to say to my sister, "I'm an adult, single, gay man, and I have to go do gay things tonight," so I went to a gay bar and was kind of surprised at what they let people do in it! "The Strip" is a region of street vendors and cafés and it was PACKED on Saturday and was OK, I guess, if you like filth and crowds and noise (Marilyn and I
hated
it).
Where should I go next? SOMEWHERE WITH BETTER TRANSPORTATION, PLEASE. Chicago?