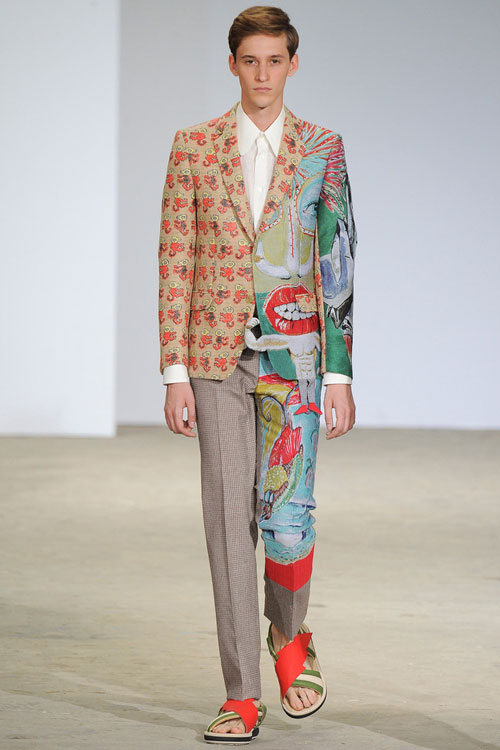 I usually find it irritating that mainstream fashion websites rarely cover menswear. Be careful what you wish for, however, because ohhhhh,
this piece
by Ashley Hoffman at Styleite made my blood boil.
See, Ms.. Hoffman has noticed you guys starting to dress creatively and even exuberantly, and she IS NOT HAVING IT. She's OK with the pocket squares and suspenders (she's caught up with the 80s, in other words), but she actually seems angry about the threat of growing dandyism. Here is the key sentence (emphasis mine):
It's not just that I am jealous that their outfit is more overplanned and more expensive than what I'm wearing.
She admits it! She admits that stylish men make her aware of her own perceived shortcomings! And so what follows is, basically, name-calling. You dandies look like ice cream vendors, like throwbacks to the Edwardian era,
like homosexuals
, and worse:
Underneath every straw fedora with a ribbon, there's usually an asshole.
Oh, I forgot that the only acceptable thing a man should put on his head is a motherfucking baseball cap. Noted. (I'm looking at my new Goorin Bros. straw hat with ribbon. I'm
such
a
dick
.)
To say that Hoffman's screed is itself a throwback is an understatement. I've long contended that women generally dress to stand out, while men usually dress to blend in, and that is the way, I suppose, she likes it. I suspect that Ms. Hoffman is finding it increasingly difficult to tell the queers from the straights, and that gives her some kind of weird anxiety. The strangest thing is that she seems ANGRY about the new dandyism. Why the animus?
Don't call attention to yourself! Don't wear colors other than black, white, blue (within an acceptable range, please!), or gray. If you're feeling kicky, go for a bow tie, if you must.
So march yourself directly to Macy's, boys. Pick up a pair of Dockers and a blue chambray oxford, and stop upsetting the Ashley Hoffmans of this world. DO NOT show any kind of creativity or style in the way you attire yourself. That's women's work.
And one final note: it's Raf
Simon
s, not Simmons (UPDATE: this has been corrected).. And his clothes are gorgeous.