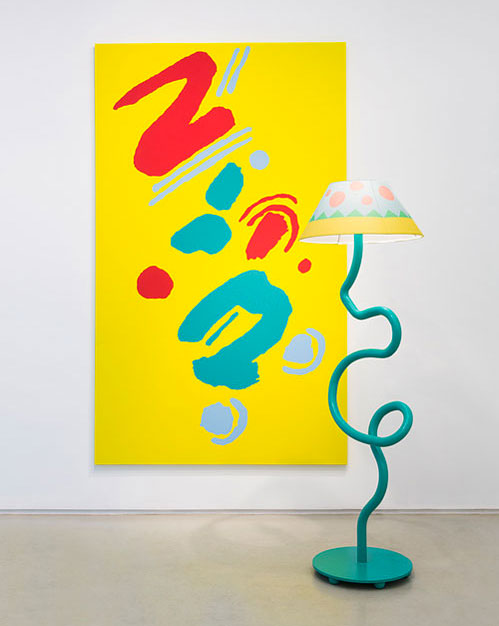 (Photos: Salon 94)
Now showing at Salon 94, NYC, is Jayson Musson's
Exhibit of Abstract Art
, a selection of paintings and sculptures based entirely on Ernie Bushmiller's "take" on modern art and design in his beloved "Nancy" comic strip.
I'm torn about this show. The Bushmiller fan in me really loves the "tingle of recognition" these works bring. Seeing Rollo the rich kid's lamp (above) is undeniably a pop culture thrill.
The critic/art historian in me, however, is less thrilled. The show seems less like
appropriation
to me and more like
fabrication
and... well... wholesale theft, to be honest. Is Musson paying tribute to Bushmiller, or is he simply stealing his wallet?
The most obvious case of a "fine" artist appropriating from comics is, of course, Roy Lichtenstein. But Lichtenstein profoundly and vigorously altered, revised and transformed his source material, far beyond mere recontextualization. The only transformation I'm seeing here (besides making pen and ink drawings "real") is the addition of color, which appears more like interior decoration than deliberate artistic theory to me. He made the stuff really pretty! Personally, I'd prefer the paintings to be black and white.
And finally, I can't help but notice that Musson chose the easiest Bushmiller modern art parodies to recreate.
But, my goodness, he made the stuff
REALLY
pretty. At the end of the argument, that Bushmiller fan in me pushes aside that critic/art historian in me and says
Please manufacture this as a 4" die-cast figure
: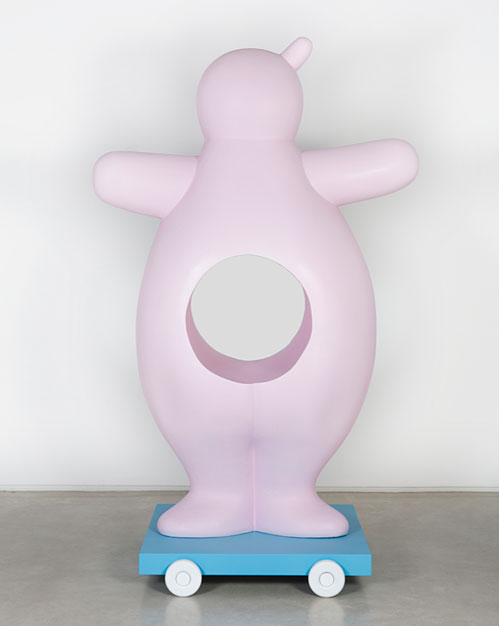 In the balance, I think the marquee name here should be "Ernie Bushmiller" rather than "Jayson Musson."
Big thanks to
Pony Pal J. D.
at Yale University (!) for alerting me to this exhibition.
UPDATE: Much appreciated response from Mr. Musson in the comments.
UPDATE:Thinking about this show more, I come to the conclusion that I really do love it. The installation appears to be really, truly beautiful. and the colors aren't actually all that easy; they're well thought-out. It's actually a great color show. I'm still a little iffy on the level of appropriation going on, though.