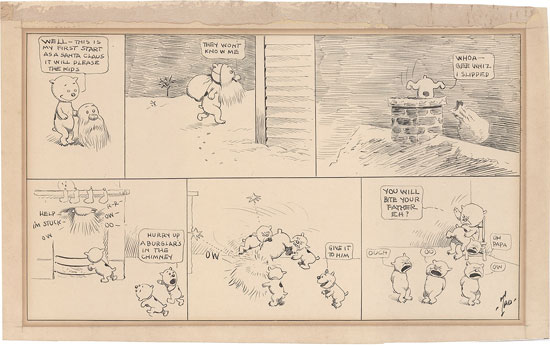 (Click for bigger.)
Last year
I posted scans
of the rarest and earliest Tad Dorgan drawing in my collection, a cute Christmas-themed comic strip starring his "Bunk" character.
I lamented that I was unable to date the strip, or to even determine if it had ever been published at all. However, I was pretty sure it was produced between 1907 and 1909.
I'm very pleased to report that I just received a comment from talented cartoonist
Eddie Campbell
(he illustrated Alan Moore's
From Hell
), who located the Santa Bunk strip in the
NY Journal
Sports section from Christmas day, 1908. And now we also know its title:
Bunk a Shine as Santa Claus
.
Thank you very much, indeed, Mr. Campbell, for clearing up that mystery! Four sparkly hooves WAY up!