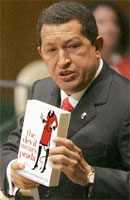 Last December there were a bunch of rumors that Obama was going to give Anna Wiintour a plush reward for her support, namely an ambassadorship to either France or the UK. At the time,
I pointed out
that these rumors were manifestly ridiculous:

The source of this silly rumor (Why not David Geffen? one wonders) is a majestically cheat-sourced gossip piece from Bloomberg, an item lovingly crafted to dovetail with every possible permutation of conservatives' favorite Democratic Party caricature, that of the elitist limousine liberal: Jane Fonda, aglitter, emerging from her town car upon arrival at a premier for a multimillion dollar anti-poverty film. This Anna Wintour fake story is just so on the nose, isn't it?

LOL, she "may be" nominated. Other people who "may be" nominated, but also won't be: Guy Fieri, Marilyn Manson, Tom Cruise, Marie Osmond, the guy you used to play Barney the Dinosaur, etc.
And now it's happening again! This time it's –surprise!– The
NY Post
touching off the rumor
with an item
which is even less sourced than the old Bloomberg piece, and we're talking completely, utterly spun out of thin air.
And wouldn't you know it, Al Kamen
in the Washington Post
, who used to be savvy before he turned 200-years-old, totally fell for it and picked up on the rumor with utter credulity. This offers a great look at how stupid rumors (like our beloved Condi Veep Rumors) gather steam in Washington. Wintour, Kamen says, "had been talked about for either London or Paris early on." Technically this is true: it was talked about "early on" in gossip columns and the Drudge Report, but not by anybody serious and certainly not by the Obama administration. So, in other words, Kamen is using old rumors which turned out to be totally, completely false to lend credibility to the new rumors which also will turn out to be totally false.
By the end of today, these rumors will have jumped from the
NY Post
's total guess, to the
Washington Post
's starry-eyed and glamor-starved repeating of the story, to, no doubt, Fox News, where it will metastasize into a tale made-to-order for the conservative outrage machine.
So I'll repeat it once again:
don't be ridiculous
. Of course Anna Wintour isn't going to be named the next ambassador to Paris, to London, to anywhere. Come on, now!