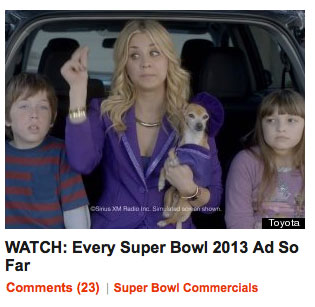 Every year this drives me insane: various news outlets and bloggers "reporting" on the advertisements which will run (or have already run) during the Super Bowl.
"Here's my favorite Super Bowl ad," one blog exclaims, while another asks, "What's your favorite Super Bowl ad?" Meanwhile, all the Yahoos and Huffington Things (see above) and etc. offer helpful "Watch all the Super Bowl ads here!" features. TV news programs actually show commercials
for free
as if they are news!
Look, while ads can be entertaining, they are not entertainment. If you post something like the above on your blog or website, you are not "reporting" nor are you "informing" or, really, doing anything at all other than being a massive sucker and airing ads for free. The existence of expensive commercials on a widely watched television program is not news; it is to be expected.
Sorry, I just had to get that off my chest.