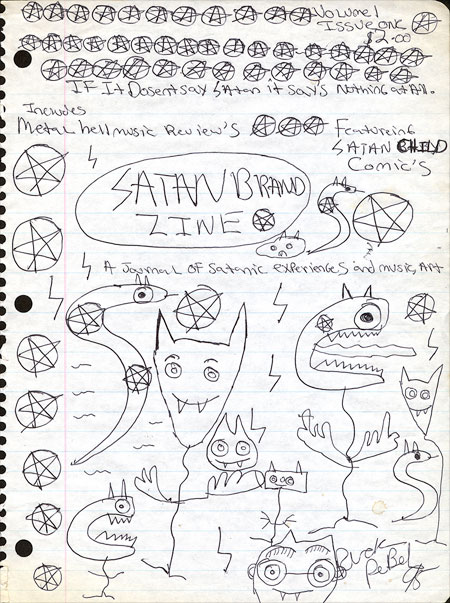 (Click each for bigger)
After I told Ricky Rebel, in 1995, that I would help him make his very own magazine, he immediately got to work producing a torrent of design ideas and layouts. Above is his rough design for the front cover. I ended up designing something quite a bit less cluttered (I'll show you that later). I love his tagline here:
If it doesn't say Satan it says nothing at all
. I also love the little demon wearing glasses at the bottom of the page.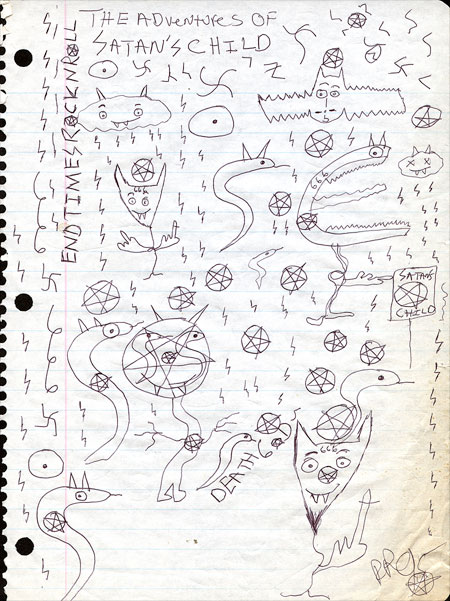 I wonder what "real" Satanists would make of Rick's drawings and his idiosyncratic take on their "faith"? Rick, after all, had no use for actual Satanism: "Anton Lavey is boring," he'd declare (correctly). Mainly, Rick just wanted to anger Christians, his favorite pastime.
UPDATE:
This
may very well be Rick Rebel on Facebook, though I can't imagine what he's doing in the presence of children. I'm not on Facebook, so I can't contact him through it. Anybody want to give it a go? Be discreet; it may not be him. OMG, I would love to get back in touch with him.
UPDATE: Pony Pal Diane has contacted Mr. Pender via Facebook. We shall see!