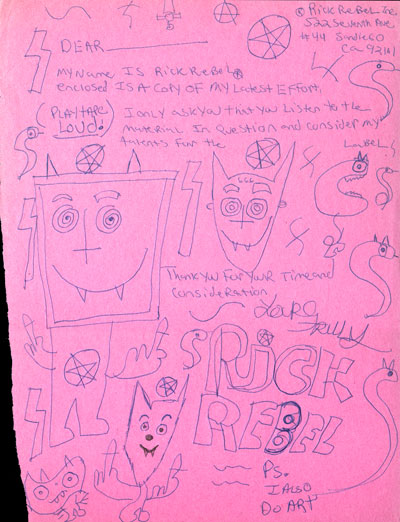 (Click for bigger!)
One thing I always loved about Rick Rebel was his complete indifference to the concept of
duplicating devices
. If he wanted to make fifty flyers for a show, for instance, he would simply sit down and draw fifty flyers for a show. I've mentioned before that when Rick said, "I'll make you a tape," what he meant was that he would press record on his tape deck and sing songs (sometimes about you!) into it until the tape ran out. The idea of having a master tape from which duplicates could be made was something Rick had heard of, but felt no need indulge in. One time, for instance, Rick became obsessed with a cartoonist I vaguely knew named
Wayno
, and told me that he had sent him a 60-minute cassette of dozens of songs all about Wayno, whom he had never met and knew next to nothing about (I think he just liked the name "Wayno"). I laughed and said that I wanted to hear it, but Rick had already mailed it. "I'll make you another one," he promised, and sure enough, a couple of days later, he gave me a brand new tape of himself sitting in his hotel room the night before and singing an hour's worth of songs about Wayno. I'd love to compare the two versions! He called it
The Wayno White Album
.*
So above is Rick Rebel's execution of the idea of a form letter ("DEAR ________") to send to record company executives with his recorded-one-at-a-time "demo" tapes. I hate to imagine the dozens of these that must have been thrown away unexamined. My favorite part is at the bottom, where he writes "PS. I also do art," as if that isn't rendered stunningly redundant by the wonderful drawings which crowd the rest of the letter.
I would have signed him.
*Rick also sent mash notes to cartoonist
Ivan Brunetti
, along with requests for his dirty underwear. Brunetti politely declined. I remember telling him, "No, no, he's serious."