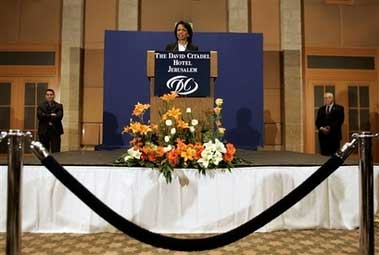 I've described before how Condi makes her living these days: she spends time at Stanford; she goes to big, expensive trade events; she gives 5-10-minute speeches at these events; the organizers of these events present Condi with five-figure checks to thank her for the strenuous performances. That's what she does. Over and over and over. She is one of the luckiest ducks on Earth.
But what's it like, I wonder, to be on the other end? What's it like to host the Disneytronic Condibot? Is it a gracious guest? Churlish? Needy? Fun?
Evidently not the latter
:
Ms. Rice is a strict presenter. High profile security was deliberately evident at all times. Forbidding rules and regulations for her time with us were read from the podium in advance, constraining the previously relaxed but suddenly snapped to attention participants in attendance; no video, no audio, nor still photography permitted. Questions must be submitted in writing, and will be received at the end of the formal presentation. Thankfully no instructions were given about chewing gum or proper posture.