(Click for bigger)
I haven't posted a "Fashion Victim" item in a while, and OMG, I was really tragic today.
I'm wearing a genuine Hawaiian shirt resplendent in acid green, tangerine, and magenta. I don't know if this fabric is dyed or printed, but I suspect the former. This is a very high-quality shirt, beautifully constructed out of heavy brushed cotton. It features cloth-covered buttons and an inset pocket. Here's a scan of part of the back of the shirt so that you can better appreciate the vivid hues and wonderful texture of the material: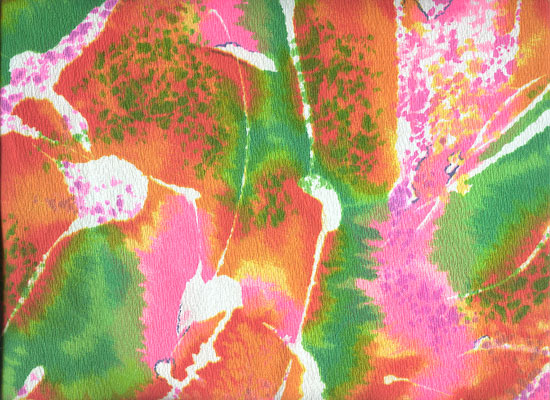 This garment was made by Pacific Isle Creations of Hawaii, a company which seems to have specialized in making particularly
fuck-you
-ish shirts. Abstract patterns on Hawaiian shirts enjoyed a brief vogue around this time. I have several examples in my collection, but none of them compare to this one.
Oh, and I'm standing in front of Jackson Pollock's
Number 1, 1959 (Lavender Mist)
, but I really think of this as my
Helen Frankenthaler
shirt.
Aloha!