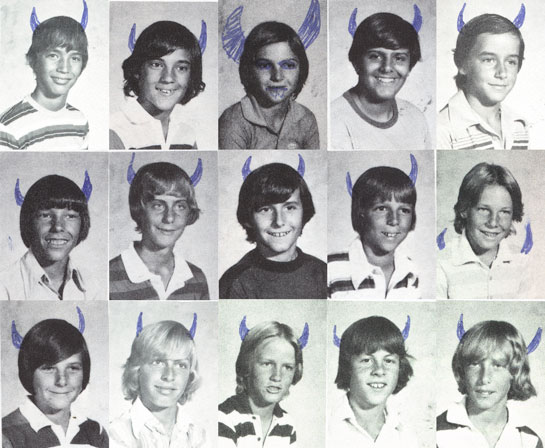 (Here they are, identifiable by the ballpoint pen devil horns I drew on them in my yearbook. Fashion historians note the preponderance of rugby shirts, a huge fad that year.)
Bullying is so hot right now, I guess it's time to tell my bullying story. I was an easily identifiable oddball as a child in the 70s and early 80s, so
of course
I have a bullying story. How could I not?
I was not, however, bullied in high school at all. I can't think of a single instance. High school was my savior in a similar way that college is often a savior to kids who have bad high school experiences. Junior high, however, was a different matter, specifically seventh grade.
I became aware of "reject" kids early on in my education. I'm not talking about garden-variety misfits or "different" kids, but the really tragic rejects, the untouchables. They fascinated me, both for their intrinsic oddness and air of tragedy, but also for the way they were magnets for all of the worst behavior of my classmates. I never participated in the mocking or abusing of these unfortunates, but I didn't look away, either, or do anything to help them. I was never a reject, thank goodness. I was just an oddball kid, geeky and weird. I was unathletic but funny, and made friends easily. All was well at
Sunrise Drive
Elementary (1-4 grade) and Murphy Elementary (5-6 grade) in Tucson's Catalina Foothills district.
In 1977, however, I entered 7th grade at
Orange Grove Middle School
, and that is where my troubles began. I guess by that time I had gotten a little weirder, and my somewhat effeminate mannerisms and lack of interest in "guy things" raised red flags with some of the 8th graders, the typical alpha-jocks who dominated the school (shown above). I didn't like these guys right from the start; the way they swaggered around the school acting like they owned the place while picking on the rejects sickened me. And then, kind of suddenly, they decided, apparently
en masse
, that I was the new target. Lucky me. It wasn't really all that much, nothing physical, but it got to be relentless for a few months there: name calling, locker damage, etc. Eventually I started to suffer from migraines, and I think the school officials knew that it was because the teasing was reaching unacceptable levels, and I believe they more-or-less put a stop to it (I'm a little hazy on the details).
The one incident that really sticks in my mind happened in art class. I was off to the side by myself trying to glue together some nuts and bolts to make a sculpture, when one of the alpha-dicks, Tom (that's him with the biggest horns up top) wandered over to my table as his gang looked on. "Can I ask you a question?" he said in a seemingly friendly way.
"Sure," I answered.
"We were all wondering... are you gay?"
"No!" I answered with conviction. And at the time, that was an honest answer. I didn't know yet. I didn't even suspect it yet! I was, after all, only twelve, and not sexually precocious. I was only barely aware of the existence of homosexuals. The question shocked me; I wasn't expecting it at all. "Is that it?" I wondered. "Is that why they pick on me, because they think I'm gay? Why would they think that?" I pondered the question. I hated sports, was into art and theater, and hung around mostly with girls. Was that it?
I didn't change my behavior or manner to "cover up" these transgressions, and I dismissed the guys as assholes. But still, that question... it kind of became a little hot coal in my brain, always there to some extent, and occasionally flaring up.
I knew I would only have to deal with those boys a little longer. Shortly they'd graduate to high school, and they wouldn't be around for my eighth grade year, and I knew I was headed to a different high school than the one they attended.
So, really, not that big of a deal. Compared to other kids like me, I got off easy, but I don't think it "built character" or anything positive like that. And that question! It burned. It smoldered for years, maybe even decades, maybe even still. That question made something clear: "Gay" was bad. "Gay" was something to be mocked, something which set you apart from others, something which caused migraines, something to be avoided.
And, of course, as the years progressed, I realized that "gay" was something I was (they were right!), and something which, as it became increasingly evident, should be obscured, denied, and hidden (thank goodness for punk rock, the perfect camouflage). This persisted for years and years, and I ended up "coming out" long after I was already actively participating in homosexuality, which caused a lot of internal conflict and a lot more migraines. I know I would have come out sooner if I didn't have that little "gay=bad" coal tangled so effectively in my neurons.
So anyway, that's my bullying story. My story is mild –very mild– compared to what others endured, and fairly brief, only a few months. But those few months really packed a wallop in my developing mind. I got over it, but it took a long time. I can't say for sure that I ever got over it completely, as the profusion of words above demonstrates.
I did achieve a wonderful closure of sorts with one of the guys. One day during my senior year of high school, I was sitting at home when I saw somebody approaching our house. It was Tom, and he rang our doorbell. I hadn't seen him in years. "Who's that?" my mother asked. "That's Tom Hodgson, the ringleader of the guys who used to make fun of me in junior high," I answered. "Do you want me to answer the door?" she asked. "No, I'm curious," I assured her. See, by this time I was a full-on punk rocker. I was "different" in a cool way, and I felt confident. So I answered the door and ushered the hated Tom into our living room. Our meeting went something like this:
"So what do
you
want?" I asked.
"Well, uh... so word is that you're way into the punk scene," he said (keep in mind Tom and all his pals went to a different high school than me).
"Yeah, so?"
"So do you know people in bands?"
"Yes, almost all of my friends are in bands."
"And you go to places like
Tumbleweeds
?"
"Yes, almost every weekend."
"How do you get in?"
"What do you mean?"
"Well, some friends of mine tried to get into Tumbleweeds, but they wouldn't let us in because we're underage. How do you get in? Do you have a fake ID?"
"No, they let us in because we're punk rockers and we're friends with the bands*. They probably didn't let you in because you don't look the part. You probably just looked like jocks out to cause trouble."
Tom started to look mortified.
"So..." he stammered, his nervousness evident, "can
you
get us in?"
"What?"
"You know, introduce us to people there, vouch for us?"
I couldn't believe what I was hearing.
"Yeah, I'm sure I could," I answered (somewhat dishonestly). Tom looked hopeful. "But why should I?"
"Well, you know, uh... I mean, you seem cool and, uh..."
" Oh, so
NOW
I'm cool," I said, finally raising my voice. "
NOW
you want to be my friend."
"Uh... uh... uh..."
"You were
such
a dick to me in junior high! And now you want me to do you a favor?" I was almost shouting at that point.
"Uh... um...."
"Why would I want to help you get into Tumbleweeds? Why would I even want to see you there? Sorry, I won't help you."
Tom seemed dejected but resigned as I led him to the door. "Well, you can't blame me for trying," he said.
"You've really got a lot of nerve," I told him. "And if I ever see you at Tumbleweeds or anywhere else, I'll make sure everyone there knows what a dick you were to me back then. Because you know what? All those scary punk guys with the tattoos and mohawks used to be just like I was, picked on by assholes like you. Have a nice day!"
After shutting the door, I turned around to see my mother with the most shocked look on her face. "That," she said, "must have felt really good."
It did.
*Actually, half the time they
wouldn't
let us in, so we'd go around to the back and climb over the patio wall.