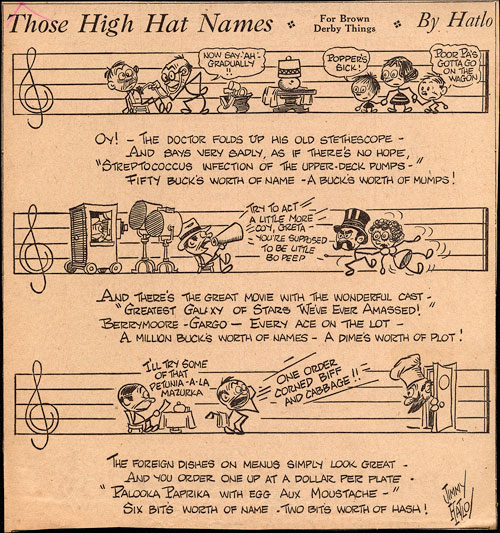 (Undated. Click any for bigger!)
Here's the second installment of the batch of clippings I obtained of cartoonist Jimmy Hatlo's early work for the
San Francisco Call and Post/Call-Bulletin
. It's too bad, in a way, that Hatlo ended up doing so well with his better known feature They'll Do It Every Time, because it brought to an end the incredible experimentation and restless creativity seen in this series.
(10-22-30)
Note how effortlessly he appears to swing from the schematic style seen above (which reminds me a lot of
Ivan Brunetti's
work), with a "modest proposal" told in nine panels to, just a few months earlier, a single scene with a multitude of characters drawn more-or-less realistically:
(08-22-30)
Note above the similarity to Tad Dorgan's hatching style. Unfortunately, I can't figure out what's going on in the scene above (UPDATE: it appears to refer to Aimee Semple McPherson). Below, Hatlo parodies,
Mad Magazine
-like, the use of sex in advertising, spoofing once again Old Gold cigarette's "Keep Kissable" ad campaign:
(06-11-31)
I love this one, featuring federal agents at "school" behaving like children. Note the "
blind pig
":
(10-09-30)
The artist seemed to mark "back to school" time each year. This one reminds me more than a little of the slightly later work of Dr. Seuss: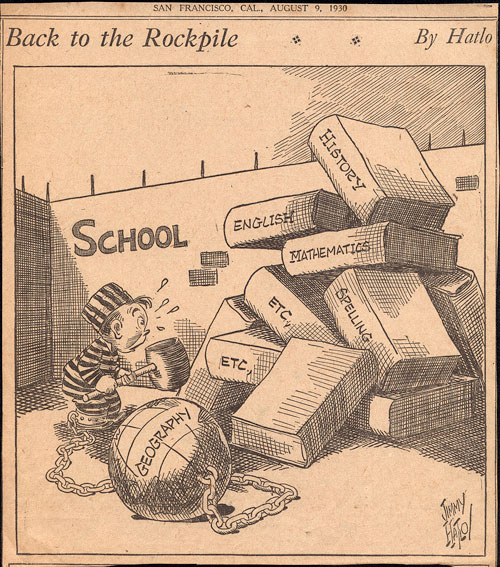 (08-09-30)
Here he celebrates smiling aviator Frank Hawks' record-breaking coast-to-coast flight of 1930:
(Undated, probably late Summer, early Fall 1930)
Fun Fact: the above clipping features a truncated "Indoor Sports" by Tad on the verso. Below, another "back to school" gag.
Dead! Dead! Dead! Woe! Woe! Woe!
:
(08-08-31)
Now the cartoonist shifts his jaundiced gaze to fashion. The way he's able to suggest corseting on a stick figure is beyond impressive:
(10-17-30)
More of Hatlo's weird musical diagrammatic funnies. God I love these:
(10-11-29)
More to come!
Part one is
here
. Part three is
here
.