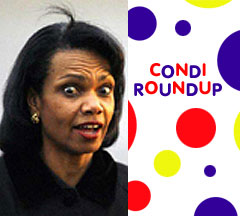 OMG, you guys! Newt went to Stanford today and talked to Condoleezza Rice! That's it, the whole story! Lucky for us, Felicia Sonmez at the
Washington Post
tacked on some Condi Veep Rumors™ at the end of the article to tantalize us.
Funny thing is, I'm sure that's exactly why Gingrich met with her, to either ask her to be his running mate (ew), or to at least fuel some Condi Veep Rumor™ speculation. The latter will certainly happen. Count on it!
It's been
weeks
since we've had some hot, fresh, totally unfounded Condi Veep Rumors™, so this is good.