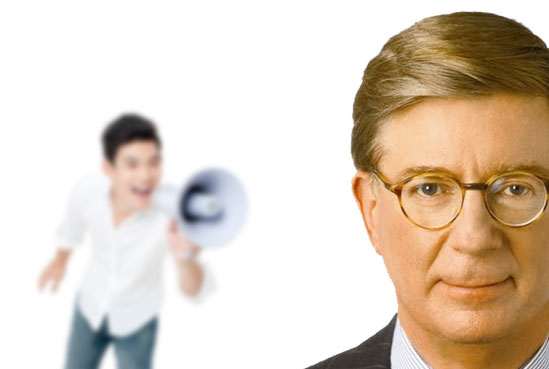 How can you stand it? The words? You can't get away from the words or the voices.
George Will cannot get away from the voices.
They surround him! They clamor away like ghastly disembodied spirits, filling every nook and cranny with their woeful din. Make the voices stop! Make them stop! WHY AREN'T THEY STOPPING?!? OMG.
George Will went to the airport once, and JESUS, THE VOICES AND THE WORDS! And the underground trains, again with the voices saying things, things... things George Will already knew! And another airport and more words, and trial lawyers, and something about daydreaming and foolishness and minatory pronouncements. MINATORY. That is a word that George Will uses, and nobody is going to take that right away from him.
And why can't George Will sit in a chair quietly without Wolf Blitzer just NOT SHUTTING UP. The whole entire world is closing in on him, inching ever nearer, nearer, nearer, whispering mocking nothings in his ears. His exquisite ears. Those ears know what torture is. They've seen it. I mean they've heard it. Everywhere. There is nowhere quiet for George Will. Ever.
Here's how it happens: George Will is somewhere, it could be anywhere. And maybe that particular time isn't a good time for him to be stuffing clay in his ears; maybe he has a companion, or maybe he wishes to talk on the phone. And then some voice somewhere starts some words going, and that sound travels along, radiating outward from the source, and eventually those words, speeding along, come across something new: it's George Will's ears. And do they ask permission before they go ahead and enter those ears? No, they do not. And then it's merely a hop, skip, and a jump through George Will's head, vibrating bones everywhere along the way, and then it's off along the auditory nerve and then, POW! Voices in his head! New combinations of words have been integrated into George Will's brain and, sheesh, the gall!
Look, words are just better when George Will is writing them. This is the exception to the "too many words, everywhere" problem. Words are particularly good when George Will is quoting them, like, oh, say, George Eliot. Middlemarch! I bet you weren't expecting THAT, were you? Ha! George Will snuck up on you and did a fine number on you, didn't he, with his fancy Middlemarch?
But all the words, OMG. WHY WON'T THEY STOP?
Stupid words.