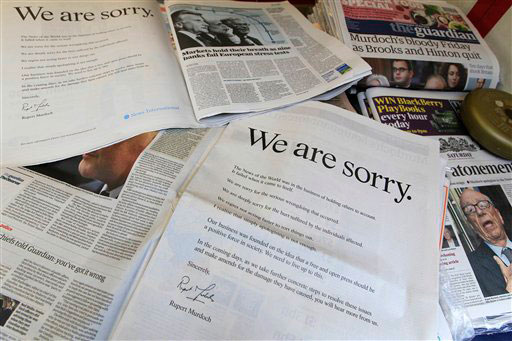 (AP Photo/Sang Tan)
I mentioned a few days ago that I've been obsessed with the British tabloid scandal, and it's just getting wilder and wilder. Already today it's clear that this brouhaha has yet to reach its crescendo.
Rupert Murdoch has been trying hard to be the picture of contrition (see photo above), surely unfamiliar territory for the notorious tyrant. If you want to see News Corp.'s official attitude, however, look no further than this morning's
editorial
in the
Wall Street Journal
, which vacillates between "everybody does it" and "this all happened years ago" and "it's all a plot by our liberal rivals anyway." Check out the opening disclosure statement, which was surely crafted by about three thousand lawyers:
When News Corp. and CEO Rupert Murdoch secured enough shares to buy Dow Jones & Co. four years ago, these columns welcomed our new owner and promised to stand by the same standards and principles we always had. That promise is worth repeating now that politicians and our competitors are using the phone-hacking years ago at a British corner of News Corp. to assail the Journal, and perhaps injure press freedom in general.
That doesn't sound too contrite to me! Read the whole thing and you'll see Murdoch's real attitude:
this isn't fair, waaah
. And anybody following the scandal can clearly see that this is hardly just a matter of a teensy tiny "British corner of News Corp." as the fiasco engulfs Downing Street, Scotland Yard, etc.
Expect the "author" of this editorial to appear on every single Fox News program over the next couple of days, endlessly shouting, "It's a British scandal! Do you hear me? BRITISH. It's just about being nosy about the Queen and Hugh Grant, OK?"
UPDATE: I posted the above at about 5:30 in the morning. Since then lots of people have piled on this embarrassing editorial. My favorite is
from Media Matters
(I know, I know), who refer to it as "petulant, tin-eared... wildly misguided and clownish...."