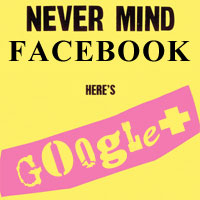 OK, so I got an invite for that new Google product (thanks, Mr. Dork!). Now, some of you may have noticed that I'm not on the Facething (none of
these people
are me, nor, for that matter, is
this
). To be honest, I have absolutely no idea how Facebook "works." Really, I have no clue whatsoever, and have never been even vaguely tempted to find out. It's not that I'm a Luddite, or unwilling to participate in the internets; it's just that it never seemed necessary to me. I mean, if somebody I went to high school with wants to find me, that's easy enough to do. I've never gone to any great lengths to protect my identity on the web.
So anyway, I decided to give it a shot and signed up for Google surveillance and just... didn't get it at all. I suspect that if I had been on Facething, I'd understand it and think it was similar but different and better? I guess? I stared and stared at it and thought, "What is this? What am I supposed to do now?" And then I saw people who wanted to circle me or whatever and thought, "Who is this person? Do I know this person? I don't recognize this name, or this one either." Is this what being "prodded" feels like?
It came close to being an existential crisis*. And then I searched and searched and found the place where I could express my desire to not participate, and did so. And now I feel all better! The end.
*Not really.