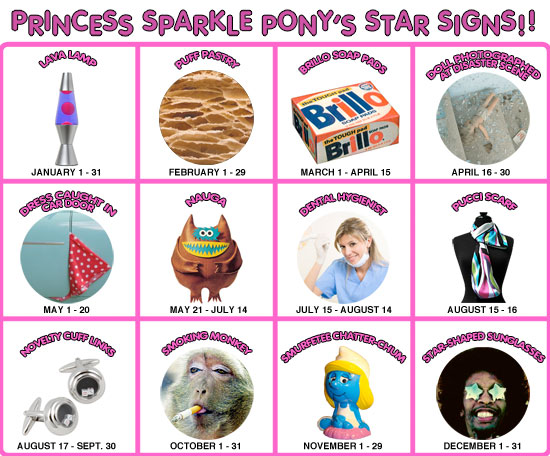 Click for bigger!
Why not? A lot of kids have been talking about astrology lately, for some reason. The "star signs" are changing or something? Or they already changed? I always love an argument about the meaningless, so I figured I'd throw my hat into the ring and create a new, more interesting and modern zodiac for everybody! Yay!
The first thing you'll notice is that not all the signs are divided evenly, though most still cover 30 days, more or less. Some, however, like the "Doll Photographed at Disaster Scene" are more rare, and the sign of the Pucci Scarf is very exclusive, indeed. "Nauga" and "Novelty Cuff Links" are the most common signs. Note, too, that if you were born on November 30, you simply don't have a sign in this new system; sorry, that's just the way it goes. No more astrology for you. Also, some of the signs might seem a little unpleasant, but at least there's no "Cancer."
If you want a horoscope, get a regular one, you know, from a newspaper or something, and then roll a pair of dice. Whatever number comes up, read the corresponding number under the old system (2 = Taurus, 3 = Gemini, etc.), and that's your horoscope for the day (obviously this means that nobody reads Aries)! That way I don't have to get involved.
Are you excited? What's your sign?
UPDATE: I changed "Plumber's Crack" to "Star-Shaped Sunglasses" because ew, right? Sorry.