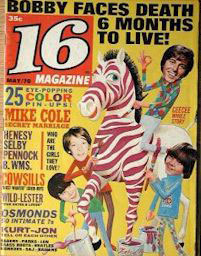 Sadly, the cover is gone from this classic teen mag; the thumbnail on the left is the best version I was able to find on the web. Otherwise, this awesome publication from Gloria Staver's classic period is complete. 16's business model was exactly the same as Tiger Beat: no ads, just newsstand sales and tie-in publications and merchandising deals. What gave 16 the edge over Tiger Beat was Stavers herself, a famous bulldozer of a journalist, highly regarded by her peers and with a savvy understanding of teenage psychology and the fickle nature of stardom.
This issue from May, 1970 presents us with a great look at a unique transition phase: the Beatles and Monkees were over with, Bobby Sherman's impressive reign as Head Teen Girl King was nearing its end, and the explosive debut of David Cassidy was still several months away when The Partridge Family premiered in September. Filling the gap is a peculiar mix of really difficult Trivial Pursuit answers: Jack Wild, Mark Lester (both from Oliver!), the Cowsills, Sajid Kahn, Bridget Hanley, Mike Cole and the Mod Squad, Dark Shadows, and a brand new group of swinging Mormons, the fabulous Osmonds! Basically most of these stars were about be be swept away by the end of the year by the Osmonds' rise to fame, the Partridge Family and David Cassidy, the Brady Bunch and the Jackson 5. Think of this period as the Sherman/Cassidy interzone.
Each of the pages below can be enlarged for fun reading from this fab period of teen obsession. First up, gossip about a Cowsill engagement and a Mod Squadder. Note, too, the kind of surprisingly tasteful record selections, no doubt from Gloria Stavers, who dated Jim Morrison:
Mailing list pimping and table of contents:
This issue really chronicles the last gasp of Bobby Sherman's stardom without even realizing it, as his TV show "Here Come the Brides" proved to be a massive flop which more or less ended his career. On the right is a futile mail-in plea to save the doomed show, which
ceased broadcasting
the next month. On the left is a hilariously creepy story "written by" soon to be out of work Brides costar Bridget Hanley which can best be described as a Bobby Sherman fan's hallucinatory fever dream:
The movie page is noteworthy for two things. First, there's a plug for the infamously corny flop rock musical
The Phynx
, and a minor notice and picture of a very, very young Olivia Newton John:
Above right and below right are typical examples of 16 Magazine's many ancillary publications. They printed out dozens of booklets, one-off mags, advice manuals, etc. Below left are lyrics to utterly forgettable songs by the Cowsills, the Raiders and the Grass Roots:
Below, OMG, what if Bobby Sherman only had six months to live? Calm down, he's OK. He's just in a philosophical mood, pondering death 'n' such:
Eerily enough, within six months, Bobby Sherman's career was, indeed, totally dead, although he would remain a 16 fave for a couple more years. Below, a delightfully straightforward proposition:
More 16 cheap quickie publications and advice from Saint Gloria:
Dreamsville! Dark Shadows gossip and prizes to be won, news about Mod Squadders:
Below, "Up-to-date with" really means "Whatever happened to." It's the end of the road for the Monkees. Sajid Kahn was a
flash-in-the-pan
Indian teen idol. Len Whiting was the star of Zeffirelli's Romeo and Juliet and never had much of a career afterward:
Speaking of "never had much of a career afterward," here's Oliver! star Mark Lester, who may or may not
be the father
of one of Michael Jackson's children (!!??):
Fiction! I guess 16 had been publishing a long soap opera about a teen girl runaway who is constantly bumping into teen idols and making friends with Bobby Sherman and Davy Jones and being embroiled in mystery. Here's an breathless summary of the story so far:
The story continues, so exciting:
I guess we'll never know how that turned out, but I hope Ceecee and Bobby Sherman escaped harm! Below left, boring TV news about flop shows mitigated by a funny picture of young and goofy Robert Wagner. Below right, Bridget answers all your questions about her hair and Bobby Sherman. For example, one concerned fan writes that she heard that Bobby Sherman is "stuck up." Bridget sets the record straight: Bobby Sherman is a wonderful human being.
Stay tuned for more Dark Shadows, more fleeting celebrities you've never heard of, and teen Kurt Russell in part two!
Here's part
two
and part
three
.