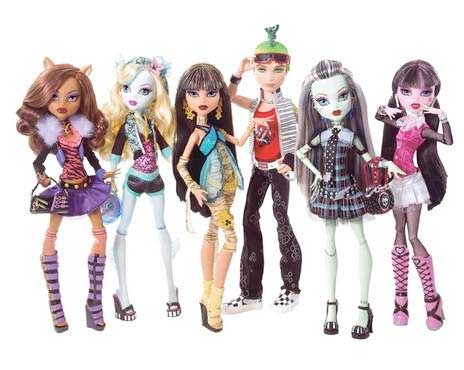 Despite my best efforts, the most popular posts on this blog, to this day, are those concerning Struts Runway Magic, the inappropriately
sexy toy fashion whorses™
which delightfully integrated body dysmorphia with consumerism and beastiality. Those toys ended up failing, much to my relief, but they'll apparently live on forever as a cautionary tale on the web.
Not cautionary enough, though, because now look at what Mattel has introduced to the young girls of America:
Monster High
, a line of stick-thin, shopaholic girls representing the fashionably cursed and injured. Indeed, death becomes them, from their full, pouty lips to their bandages and scars.
Look, I don't think I really need to get too deep into this, but these monstrosities (see what I did there?) make Barbie look positively chunky in comparison, and the conflation of sexual aggressiveness* and death is just a bit too much for me. Bratz are prudish and down-to-earth next to these disturbing hunks of gussied-up acrylonitrile butadiene styrene.
And unlike the failed erotic ponies, they're set to be one of the
"hottest"
toys of the year. Yay!
The logo is a cute skull with mascara and a pink bow, and the dolls are recommended for ages 6 and up.
*The teen Medusa is no doubt forever turning boys in the hallways rock hard.