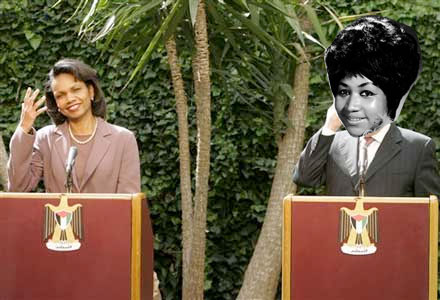 Sometimes somebody reads something wrong and creates
something wonderful
:
Aretha Franklin and Condoleezza Rice both would be coming behind the mike for a fund-raising event. Well, this news is absolutely true. The queen of soul would be teaming up with the former queen of the US state department at a concert in Philadelphia.

Aretha Franklin's due [sic] with the former US secretary of state Condoleezza is what all and sundry are waiting sitting on the edge of the seat. This duet would be mesmerizing and will surely grab every eye and ear. Both are scheduled to perform songs like Natural Woman and Say a Little Prayer.
Well, ha ha, yes, that would be mesmerizing indeed. Unfortunately, while it is
thrillingly true
that Condi 'n' Aretha will be performing a duet tomorrow in Philadelphia, sadly, Condi won't be singing; she'll be tickling the ivories while Aretha handles the vocal duties.
But can you imagine? Try to imagine the Disneytronic Condibot belting out "Natural Woman" with Aretha.
The mind reels.