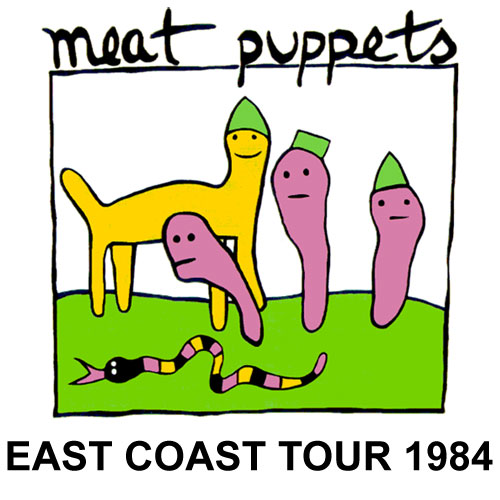 Here's another "authorized" bootleg of the Meat Puppets, and this is a special one. Curt Kirkwood made this tape for me of his favorite moments of their first ever East Coast tour in Fall, 1984. Later he told me that all the original tapes were gone, so I may be the only person who has these recordings.
Sound quality varies greatly from section to section, and do not adjust your set, because the first 18 minutes of part 2 are left channel only. The music is similar to the live shows I've already posted, but it's heavy on the covers: "Dominique" by the Singing Nun (!) rears its head again, and there are no less than three Elvis songs. There's also a Grateful Dead tune (ugh) and one of the versions of "Hot Pink" morphs unexpectedly into "Tomorrow Never Knows" by The Beatles. Curt also shows a preference for some of the funnier and more chaotic moments, at one point declaring, "My name is Carol Burnett."
I have no idea where these shows were performed, but Boston is mentioned at one point.
It's just over 90 minutes, and the 130mb files are zipped up and ready for download
here
.