OK, so
this
Washington Post
article is credited on the front page of their website as by Robin Givhan, but when you click through, it says "staff writer," so who knows. But anyway, it's an article about how Elena Kagen dresses badly/blandly because she's in Washington and it's the tradition. But then comes this whopper:
The other men and women who have gone through this process have not been daring in their wardrobe choices either. There hasn't even been a pair of artful eyeglass frames in recent memory.
Robin! How could you forget: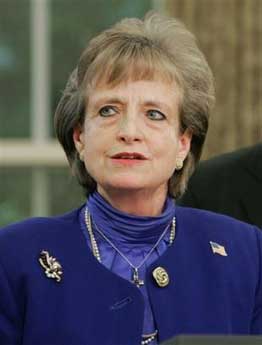 (Reuters Photo, October 3, 2005)
Yes, that's a photo of Harriet Miers going through just that exact same process. And if that eyeliner doesn't compensate for "artful eyeglass frames," then I just shouldn't comment on fashion anymore.