Photos by A.C. Huestis. Click for bigger!
First of all, it's Sparklesibling Andrew's birthday today, so I'd like to acknowledge again his contributions to this site. His series of photographs of Tucson and environs have perfectly captured both the
peculiar beauty
and
oddly persistent bleakness
of Arizona.
Unlike previous photos in this series, I actually requested a specific subject from Andrew in this case: the awful
Kokopelli
, who began his life as an ancient Pueblo Indian deity and has now devolved into a cutesy, ubiquitous Southwestern™ design motif. In a way, I regret my request, because Andrew's photos of this particularly egregious Kokopelli are almost more beautiful and dramatic than they have any right to be: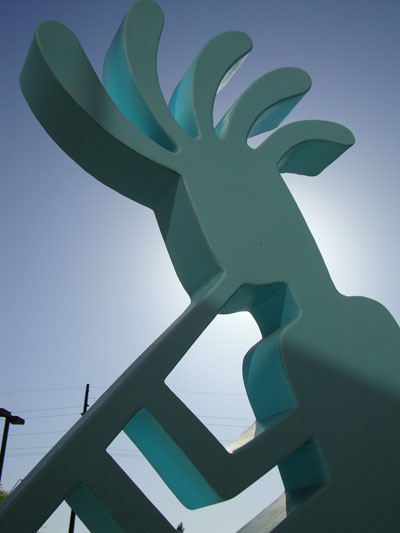 What interests me isn't so much the hated Kokopelli, but a particular affectation which is a hallmark of Southwestern kitsch: the silhouette. The motifs change over time, but there is a constant, constant use of the silhouette; you see it everywhere, all the time. I remember in the 1970s, the most commonly used silhouettes were that of the roadrunner (typical example
here
) and the saguaro, still perennial favorites. In the 80s, the big star was the coyote (neckerchief optional) howling at the moon (fantastic example
here
). I think Kokopelli's fame starting rising dramatically in the 90s, as did the petroglyph-like spiral. There almost seems to be a law that all new restaurants in Phoenix and Tucson must incorporate decorative metalwork silhouette motifs in some fashion.
But anyway, Kokopelli, unfortunately, is here to stay: