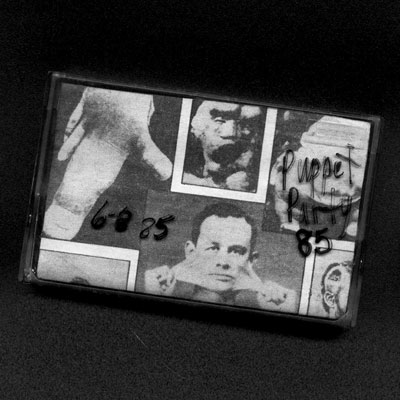 Click for bigger.
Compared to the last Meat Puppets performance
I posted
, which was nearly a year earlier, this one is much better sounding, but I still recorded it on a ghetto blaster, so, you know, don't expect King Biscuit quality. This was at the Mason Jar in Phoenix, a place I remember being small and unremarkable. I believe this was the last show of theirs that I saw in Arizona before returning to college in San Diego full-time.
But what a difference a year makes! Like the earlier tape, the MPs are again mostly doing songs from
Meat Puppets II
and
Up on the Sun
, but what were new songs then are now very practiced, extremely tight, executed almost perfectly. To be honest, I can't say this is an improvement; I kind of prefer the chaotic qualities of the earlier show. Still, though, their skill is hair-raising here, and it's sometimes hard to believe it's a three-piece. Things get looser towards the end as the band plays ridiculous/awesome versions of "CC Rider" and "Country Road" as well as a superb "Not Fade Away." Halfway through a stodgy cover of "Tennessee Waltz," Curt says, "I hate this song!" and stops playing it. Fun show!
It's in two pieces, and it's over 80-minutes-long! Get the 120mg zipped files
here
.
PS: I was thrilled that drummer Derrick Bostrom, always the nicest guy, left a comment on the last post. Derrick: several years ago, I offered to send you these tapes. I was too poor at the time, though, and never got around to it. If you still want them, you should email me, because I'd love for you to have them.