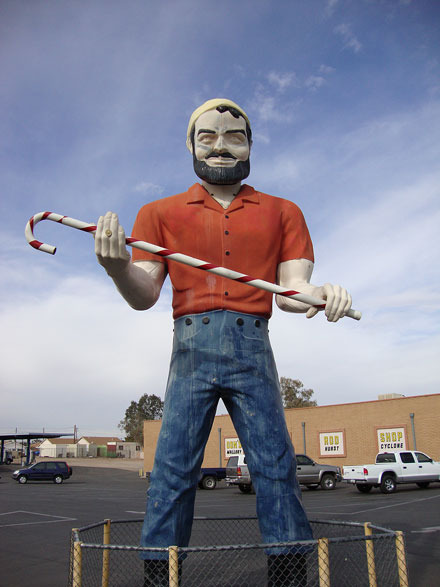 All photos by A.C. Huestis. Click for bigger!
It's true that there's nothing particularly "Arizonan" about Tucson's resident
Muffler Man™
, but he's always seemed to be very at-home in the Old Pueblo™. Sadly, his double-sided ax was stolen recently.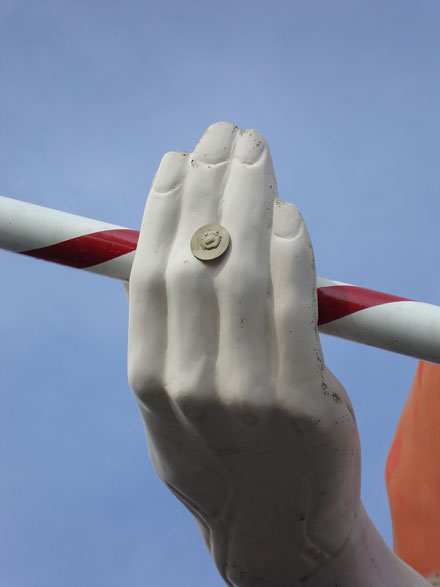 These photos show him with his holiday accessory. Now, don't get too excited when I tell you this, but he used to have an entire Santa suit, complete with hat and white beard! I'm pretty sure I've got photos of that somewhere.
Roadside America mentions that some Arizonans know this Muffler Man as Glenn Stone because of the corner he guards. In the 70s and 80s, though, we all called him Leo the Lumberjack, because he was located in front of Leo's Auto Supply. Nobody native would ever think to call him Paul Bunyan.
Poor Leo. He's always been reasonably well maintained, but I'd like to see a slightly better paint job. I'd like to see his irises and lips detailed, for instance, as long as nobody gets carried away. He really does need a new ax.
Arizona is home to at least
three other surviving Muffler Men
. See Leo contextualized
here at Google Maps
.