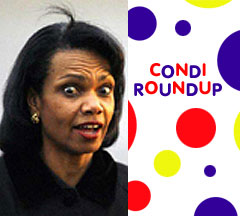 It's been a while, but lookie, a few Condithings happened while we weren't paying attention:
Former U.S. Secretary of State Condoleezza Rice gives a speech during a lecture on "Asia's Future" at the Chinese University of Hong Kong Friday, March 19, 2010. (AP Photo/Kin Cheung)
As relevant as ever, I'd say! And here she is receiving for her contribution a "souvenir" (
their words
, not mine):
You know what's nice, now, for Condi? That souvenir? Now that she's no longer SoS, she gets to keep it! Yay for nice things for Condi!
And finally, from a few days earlier, my favorite Condiproduct in some time:
Former US Secretary of State, Condoleezza Rice speaks at the National Bank of Kuwait annual international symposium in Kuwait City on Sunday, March 14, 2010. Rice gave her views on the outlook for Iran and Iraq and the strategic, economic and political implications for the Middle East region. (AP Photo / Gustavo Ferrari)
It makes me wonder if there's a rider in Condi's contract that states that she must always be accompanied by oversize text stating who she is.
And yes, she endorsed Carly Fiorina, and that's funny because
Carly Fiorina is funny
.