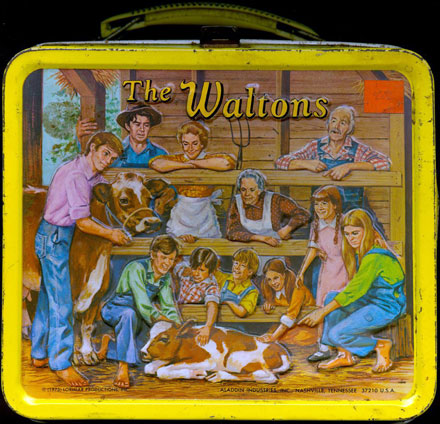 Click each for bigger.
I grew up in the suburbs but, ever since I can remember, always longed for the city. And so it was with a special dread that I loathed The Waltons, that goody-goody fake rural hell filled with boring people and their mundane woes. God, I hated that show. I was baffled by the idea that it was able to arouse feelings of nostalgia in people. Were they crazy?
Here's the other side, where we see the cretinous Waltons trying to get their truck unstuck, a job which would be considerably easier minus the seven passengers weighing it down:
On one side, John Boy Walton, the single most annoying character in 1970s television, and that's saying something: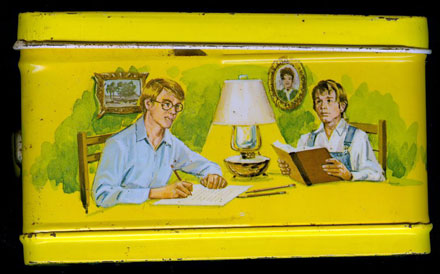 On the bottom, let's all gather 'round and have a lot of fun watching Gramps getting his hair cut. THIS IS WHAT PEOPLE DID BEFORE THE INTERNETS: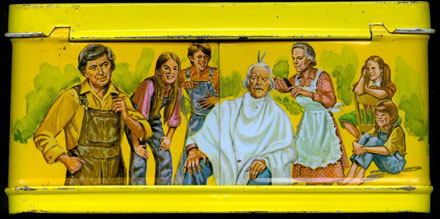 On the other side, the house. It's nice enough, I guess, if you like that sort of thing:
And, finally, on the top, the littlest Waltons cavorting with vermin (I removed the handle for scanning):
It's a nice, embossed lunchbox. I can't imagine this one was very popular with kids, though, so it appears to be pretty scarce, judging from past eBay auctions.
Retrocrush features it
in their "worst lunchboxes of all time" lineup.
Inside this lunchbox is a full set of Mad Magazine trading cards (
still available
from Amazon!), a pharmaceutical company promotional key chain, and a Chapstick™.