Click both for larger.
This long sleeved, 100% polyester disco shirt is by "Landmark" and was made in Taiwan. Here's a view of more of the peculiar pattern: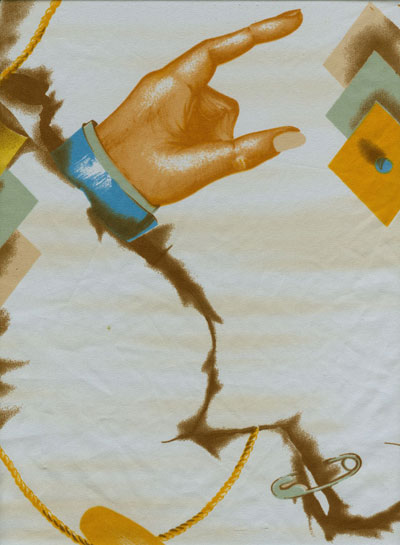 To many, this pattern probably seems like a random design involving screws, pointing hands, tiles of color and... a corkscrew sticking out of a faux tear in the fabric.
To those of us interested in 20th Century avant-garde art, however, it's startling to realize that it's based on Marcel Duchamp's obscure "last" painting,
Tu m'
, of 1918, now in the collection of the Yale University Art Gallery. Oh, sure, they're a little off on some parts (in the painting it's a bottle brush sticking out of the tear, while the corkscrew is visible only as a shadow), but what a strange and surprising image to put on a shirt! When I spotted this in a Detroit thrift store, my reaction was, "Wait a minute... what?" I try to imagine the meeting where the designer says, "This esoteric painting fairly screams
get down
."
Marcel Duchamp has always been obscure to the general public, even today. In 1973, however, he got as mainstream as he ever was when the Philadelphia Museum of Art, MOMA, and the Art Institute of Chicago hosted a high-profile retrospective exhibition of his work, a show which was featured in popular magazines like
Life
. With that in mind, I think it's fairly safe to guess that this shirt was made in 1974.