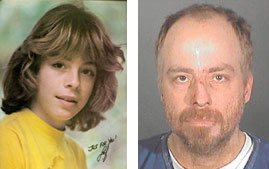 We had a lot of fun recently
reminiscing about Leif Garrett
, but it looks as though actually
being
Leif
isn't so hot
nowadays:
Former teen idol Leif Garrett was busted on charges of possession of heroin on Monday, we can report.

The singer-actor and former Nicollette Sheridan flame was searched by Los Angeles County sheriff's deputies in a subway station just before noon, after a sheriff's spokesman said Garrett was "sweating and shaking profusely."

Released on a bail bond in the wee hours on Wednesday, the star is due back in court Feb. 24 to answer for the stash of black tar heroin that authorities say was hidden in his shoe.
Poor Leif. He really was a nice guy.