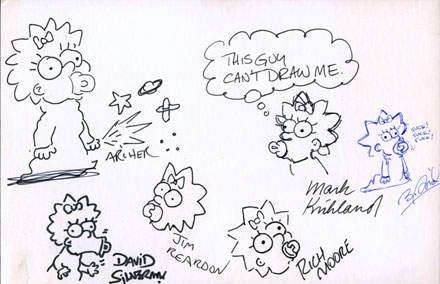 Click for bigger.
I mentioned recently that I used to work for Spike and Mike's Festival of Animation and implied that it was a less-than-wonderful experience. However, there was a lot I loved about it, too: the films themselves, the travel experience, and especially my excellent colleagues (including Pony Pal™ Mr. Bad Trash!). A huge bonus was getting to meet so many great animators and to see behind the scenes at several studios, including Disney (where I saw an entire warehouse filled with preliminary work on The Lion King and a scrapped version of Fantasia 2) and Hanna Barbera.
Shown above is a sheet of cardboard which, over the course of two days, I had six different directors of The Simpsons draw Maggie Simpson for me. They were all guest speakers at the FOA in, I believe, Northridge, CA. in about 1992. All these directors/producers were well respected at the time, but what they've all accomplished since then (three Oscar noms, two Oscar wins, three BAFTAs, and fifteen Emmys between them) makes this keepsake a really special gem. The artists interpreting Maggie are as follows:
Wesley Archer: Won an Emmy for his work on The Simpsons.
David Silverman: Also a producer of The Simpsons, won four Emmys and was nominated for the BAFTA for The Simpsons Movie, co-directed Monsters, Inc.
Jim Reardon: Co-wrote the screenplay for WALL-E, for which he was nominated for the Oscar. Won five Emmys for The Simpsons. He wrote many of the episodes of The New Adventures of Mighty Mouse!
Mark Kirkland: Won three Emmys for his work on The Simpsons.
Rich Moore: Won two Emmys for his work on The Simpsons.
Brad Bird: Wrote and directed The Iron Giant, The Incredibles, and Ratatouille, won Oscars for the latter two and BAFTAs for all three.
UPDATE: also this (click for bigger):