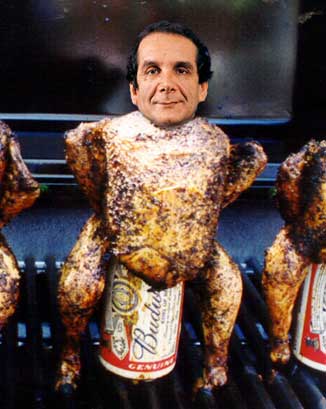 From the liberal
Washington Post
, a newspaper which simply can't publish enough justifications for torture, more moral clarity
from the Krauthammer
:
The second exception to the no-torture rule is the extraction of information from a high-value enemy in possession of high-value information likely to save lives. This case lacks the black-and-white clarity of the ticking time bomb scenario. We know less about the length of the fuse or the nature of the next attack. But we do know the danger is great. (One of the "torture memos" noted that the CIA had warned that terrorist "chatter" had reached pre-9/11 levels.) We know we must act but have no idea where or how -- and we can't know that until we have information. Catch-22.
Justifications for torture include, in other words, vague suspicions, feeling like you're missing out on something, wanting your detainee to tell you more.
Conclusion: torture if you must. And you must.