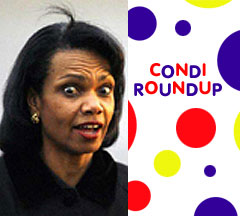 What's Condi been up to? Not much! But now, thanks to Pony Pal™ Jessica, we know the awesome news that photo-ops with the Condibot are
to be had
for the totally affordable price of $250 each, $500 per couple. Just imagine it! Do you think it'll be matching armchairs set-up? That's less than a pair of Condi-worthy shoes! I'll pass, thanks, but wow, some Pony Pal should totally do it. The bad part is that you have to sit through her giving a speech about, like, "Perspectives on Peace and War", so OMG, it'll totally be
blah blah blah Annapolis
, so boring, no way.
Do you know what I love? I love it when people in other countries put on
special puppet shows
starring George Bush and Condi. On Saturday, a new Czech production debuted:
Police stand near dummies representing former U.S. President George W. Bush and former U.S. Secretary of State Condoleezza Rice, during a protest rally against a plan to build a U.S. missile defence shield in the Czech Republic, in Prague April 4, 2009. U.S. President Barack Obama will attend a summit between the United States and the 27-member European Union in Prague on Sunday. REUTERS / David W Cerny
So totally cute! I like this picture, too, because you can just make out a tiny Condi head with the international "NO" symbol on the sign carried by the lady:
As much as I love these fun puppet shows, they always seem to end the same way, with everybody loving the puppets so much they set them on fire, so imagine my delight when this production ended differently, with the adorable puppets being thrown comically into the river:
Hooray!