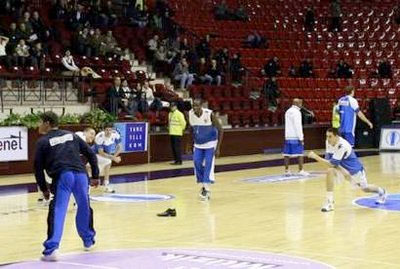 Players of Israel's Bnei Hasharon warm up as a shoe thrown by a protester lies on the court before their ULEB Eurocup Group D basketball game with Turkey's Turk Telekom in Ankara January 6, 2009. The basketball game was suspended on Tuesday after Turkish fans erupted in protests against the Israeli offensive in the Gaza Strip, Turkish media reported. A referee suspended the game and ordered the players back to the dressing room after hundreds of Turkish fans began chanting "Israel, killers!" in an Ankara sports centre, SkyTurk broadcaster reported. REUTERS/Umit Bektas (TURKEY)
As much as I'm enjoying the Middle Eastern Shoe Art Renaissance, it's a little disappointing to see how quickly it's devolving, beset by bandwagon-jumpers and johnny-come-latelys. How long, I wonder, before some clever entrepreneur comes up with the one-size-fits-all shoe expressly –and cheaply!– produced for protest purposes, neither wearability nor durability required? Can I buy ad space on one?
Wouldn't it have been great if the original shoe-tosser had been a lady reporter? And it had been a pump? Seriously, the imagery would just be better. Or, ha ha, what if she had thrown her handbag at Bush, and the above photo would show some random, like, Judith Leiber sequined squirrel sitting incongruously at mid-court. Funnier!
Anyway, wow, I'm really rambling, so right, yes, as I said in the title, the whole thing has successfully crossed the Atlantic because here's some people from a protest maybe still happening right now in New York City:
Protesters carry a picture of Mayor Michael Bloomberg with a shoe stuck in it at a rally near city hall in support of Gaza and against Mayor Michael Bloomberg's support of Israel in New York, Wednesday, Jan. 7, 2009. (AP Photo/Seth Wenig)
Hmm, so OK, you make a sign with a big face on it and then hot-glue-gun some random shoe on it. Maybe the Middle Eastern Shoe Art Renaissance is growing a bit tiresome, after all? But... well, no, because
I work the waterfront
when it comes to shoe-centric news, if you know what I mean, so what's a pony to do? And how long will it last? Will shoe iconography endure in protest art for many years to come, a versatile shorthand symbol of "
DO NOT LIKE
" for our grandchildren and their grandchildren? Maybe the Middle Eastern Shoe Art Renaissance is only in its infancy, far from waning, ready to embark upon a glorious Mannerist phase, decadent and over-stylized, lewd and grotesque. In other words, maybe there will be a great Fellini of the Middle Eastern Shoe Art Renaissance! Or Pasolini! Neat!
Or am I hoping for too much? It's really just going to be a lot of shoes hot-glue-gunned onto posters, or just simply hoisted up into the air, a disappointingly minimalist gesture seen this morning in Nicaragua:
(AP Photo)
So I guess you could say I'm still interesting in the MESAR, but I pine for its missed opportunities...
...I mean, come on. All this would have been so much better if a chick had tossed a slingback in the first place.
Tsk.